Valentina Sampaio is French Vogue's first transgender cover model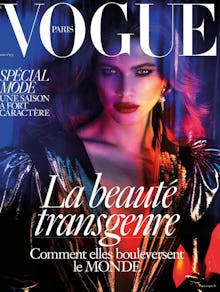 The face of fashion is changing.
In an unprecedented move, French Vogue will feature Brazilian transgender model Valentina Sampaio on its March cover, making her the first trans woman to be in the magazine so prominently.
"This cover is about the importance of [human] rights, and that we still need to make progress on an awful lot of stuff," French Vogue editor in chief Emmanuelle Alt said in an interview with American Vogue.
In the issue, Sampaio will model spring fashions with "high-octane glamor but done with a cool and playful wink," according to the same interview.
As The Cut notes, the March cover isn't just a throwaway distinction — it's a move carefully designed to offer maximum visibility in what is generally understood to be a fashion magazine's second biggest issue of the year (after the almighty, ad-laden September issue).
Perhaps it's time for the flagship American mag to take a page from its European peers?