Is 'The Flash' new tonight? When to watch season 3, episode 13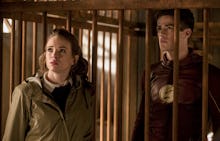 In the final moments of episode 12 of The Flash, Jesse Quick traveled from Earth-2 and delivered quite the message to Wally West: Grodd has kidnapped Harry and is holding him in Gorilla City. This sets up what should be an exciting two-part episode featuring Grodd. Unfortunately, fans will have to wait a bit longer to see the arc commence.
The Flash will be taking a hiatus from airing new episodes on Tuesday, with the CW instead broadcasting the season finale of Tough Mudder: The Challenge Within during Barry Allen's normal time slot. Fortunately, this hiatus will only last one week, and The Flash will return with season three, episode 13, titled "Attack on Gorilla City," on Tuesday, Feb. 21 at 8 p.m. Eastern. 
To hold you over until then, we have the synopsis and promo for the first part of the two-episode event. The official synopsis from the CW for "Attack on Gorilla City" reads as follows: 
BARRY AND TEAM TRAVEL TO GORILLA CITY AND FACE GRODD — When Jesse Quick (guest star Violett Beane) informs the team that her father (Tom Cavanagh) has been abducted, Barry (Grant Gustin), Caitlin (Danielle Panabaker), Cisco (Carlos Valdes) and Julian (Tom Felton) voyage to Earth-2 on a rescue mission to save Harry from Gorilla City. As they trek through the forest, Barry and the team are immediately captured and brought to Grodd (voiced by David Sobolov). Grodd tells them he needs their help to stop Solovar (voiced by Keith David), the leader of Gorilla City, as Solovar wants to invade Earth-1. Meanwhile, back on Earth-1, Jesse and Kid Flash (Keiynan Lonsdale) hit the streets to stop a metahuman that can control gravity, with H.R. and Joe (Jesse L. Martin) guiding them from S.T.A.R. Labs.
Here is an extended promo for season three, episode 13 of The Flash. 
The Flash airs Tuesdays at 8 p.m. Eastern on the CW.
Mic has ongoing coverage of The Flash. Please follow our main The Flash hub here.