Desiigner and Young Thug walk for Philipp Plein at NYFW as Tiffany Trump and Kylie Jenner look on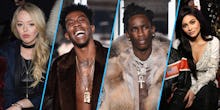 Imagine a room filled with the most unlikely assemblage of people, from Madonna and Kylie Jenner to Fat Joe and even Pete Wentz. Double that by ten. Now you basically have the Philipp Plein show at New York Fashion Week, held at the New York Public Library on Monday night. 
For a show that proved to be as wild as Plein's hard-edge, punk-inspired designs, the designer brought in not only a slew of unexpected models to walk at his first NYFW show (he previously showed in Milan), but also an unlikely mix of attendees.
First, let's start with the models. 
At the Plein show, rapper Desiigner made his NYFW debut. 
As did Fetty Wap. 
Then there was Young Thug, who previously modeled for Kanye West's Yeezy Season 3 in 2016. 
Pete Wentz, formerly of Fall Out Boy, also walked. 
And then, perhaps the crown jewel of the runway, Jeremy Meeks, who's best known as the "Hot Felon," walked. 
Among the other notable models were Hanne Gaby Odiele, the first out intersex model, Anwar Hadid (Gigi and Bella Hadid's brother) and Sofia Richie (daughter of Lionel Richie). 
Not to be outdone, some pretty amazing women were watching on at this Plein show simultaneously. And by "pretty amazing women" we mean Tiffany Trump, Madonna, Kylie Jenner, Paris Hilton and Nicky Hilton.
All these women, just a few yards away from one another, watching the Hot Felon prance down a runway. 
Simply beautiful. 
Though, apparently at the show, so many of those in attendance were hesitant enough to be seated near Tiffany Trump that the seats around her remained empty. 
So there's that. 
Earlier in the week, the youngest Trump daughter and her mother, Marla Maples, attended designer Taoray Wang's runway show, the same designer who created her coat and dress for inauguration day. ("I would rather focus on personal qualities and characters, rather than labelling them," Wang told the South China Morning Post backstage).
Following Plein's runway show, adding even more star power (because why not?), there was a performance from Nas and the Kills. 
Was this the most exciting event New York Fashion Week has to offer? Well, guess we'll just have to see Kanye's Yeezy Season 5 show on Wednesday to make that call.