What did PewDiePie say? Disney breaks with YouTube star after anti-Semitic imagery.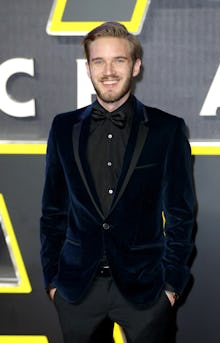 Disney has cut ties with Swedish YouTube star Felix Kjellberg, better known as PewDiePie, after he posted a series of videos to his YouTube channel that contained anti-Semitic images, the Wall Street Journal reported Tuesday. Kjellberg is a megastar on YouTube, with a channel boasting 53 million subscribers.
Disney's decision to part ways came after the Journal reached out to Disney to inquire about nine troubling clips from Kjellberg's videos dating back to August 2016. A spokesperson for Maker Studios told the Journal, "Although Felix has created a following by being provocative and irreverent, he clearly went too far in this case and the resulting videos are inappropriate."
The Journal noted that in one of the since-removed videos, Kjellberg shows a man dressed as Jesus Christ and saying "Hitler did absolutely nothing wrong." But it's the video wherein Kjellberg hired two Indian men to hold up a sign that reads "Death to all Jews" that reportedly prompted Disney to pull the plug.
Google also pulled advertising from the video, but the Journal reported that YouTube hasn't removed the videos containing the nine offensive clips in question — just the three that appear to have been removed by Kjellberg himself. The Verge reported that PewDiePie's YouTube series, Scare PewDiePie, will not be renewed for a second season and that Kjellberg has also lost his Google Preferred advertising status.
Kjellberg defended the video, saying on his Tumblr page: "I was trying to show how crazy the modern world is, specifically some of the services available online. I picked something that seemed absurd to me — that people on Fiverr would say anything for five dollars." He stressed that he is "in no way supporting any kind of hateful attitudes" and that it was "laughable" to think he would support hate groups, which have embraced his anti-Semitism as genuine. 
(For their part, the men in the video released their own apology video, admitting "we don't really know what the message means.")
"Though this was not my intention, I understand that these jokes were ultimately offensive," Kjellberg said on his Tumblr page. Kjellberg was recently suspended from Twitter after tweeting about joining ISIS, around the same time he posted his first anti-Semitic clips.