Kim Jong Nam's Rumored Assassination: The bizarre case of Kim Jong Un's half brother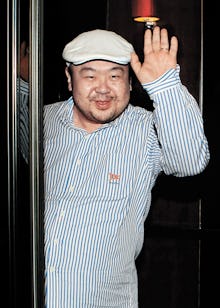 Kim Jong Nam, the half-brother of North Korea's Supreme Leader, may be dead in Malaysia, the result of an apparent assassination carried out under shadowy circumstances.
Reuters reported Tuesday that a 46-year-old Korean man was rushed to Putrajaya Hospital after being poisoned at the Kuala Lumpur airport by two women who, according to a South Korean news channel, are believed to be operatives working for the country's enemy neighbor. They are still on the loose. Meanwhile, a source in South Korea's government confirmed to the news outlet that the dead man was indeed Kim Jong Nam.
Malaysian police said that the deceased was in possession of a passport with the name Kim Chol, according to Reuters. Incidentally, Kim Jong Nam's younger brother — the second of Kim Jong Il's three sons — was named Kim Jong Chul. A noted Eric Clapton fan, Kim Jong Chul was reportedly passed over for the succession because his father thought his second son was too girlish. 
As the oldest of Kim Jong Il's three sons, Kim Jong Nam was expected to take over the dynasty upon the death of their father, Kim Jong Il. That is, until Kim Jong Nam's fortunes shifted, ostensibly over an illicit, attempted trip to Disneyland.
In 2001, Kim Jong Nam was detained in Tokyo's Narita International Airport, where he was reportedly using a forged Dominican Republic passport to visit Japan's theme park — or so he told authorities before they deported him to China. Up until about 2012, Kim Jong Nam was said to be living in Macau, a Chinese administrative region the Week once compared to Las Vegas. 
Kim Jong Nam was not necessarily a proponent of North Korea's dynastic succession. In 2010, he told reporters that, while he was "prepared to help" Kim Jong Un as needed, he'd be doing so remotely, from his home abroad.
"Personally, I am opposed to the hereditary transfer to a third generation of the family," he said.
In Malaysia, authorities are waiting on autopsy results before they can confirm that the 40-something-year-old man poisoned Monday was in fact the supposed former heir to North Korea's dynasty.