(Exclusive) Bill Gates explains how he spent $30 billion of Warren Buffett's money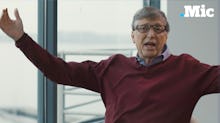 To even the most passive observer, it may seem like the world is on fire, but Bill and Melinda Gates are more optimistic than ever.
"A lot of people feel the world is getting more fragmented," Melinda Gates wrote in the annual letter for the Bill and Melinda Gates Foundation, released Tuesday. "But if you look along a timeline, the periods of fragmentation often come when society is digesting its new diversity. The larger historical trends are toward greater inclusion and caring."
Addressed to Warren Buffett — who donated $30 billion to the foundation in 2006 — this year's missive serves as a progress report on how the couple has made use of his investment. It covers many of the themes on which Bill and Melinda are typically outspoken, including immunization, women's issues and solving poverty worldwide.
In a recent interview in his Seattle office, Bill Gates discussed the couple's annual letter and what challenges the organization will focus on in the coming years. In a wide-ranging conversation, the billionaire founder of Microsoft shied away from discussing U.S. politics, but touched on everything from Bill Gates' friendship with Buffett to the rise of fake news.
Despite his optimism, Gates acknowledged that the digital and social media age has presented challenges for the foundation's work. The phenomenon of "fake news" — the rapid spread of false stories across platforms like Facebook — threatens the foundation's philanthropic work by making it more difficult to convince the public of the benefits of technological developments like vaccines or GMOs, Gates said. 
Whereas Gates once believed the spread of digital media would help people become better informed, he now questions whether social platforms may actually do more to obscure the truth than reveal it.
"I think it's unclear at this point whether the ease of publishing and the ease of finding things is a net benefit for people being better informed," Gates said. "The digital era, it's new and it is a bit concerning that it isn't pulling us together as much as we would have hoped."
Although he admitted he does not know what the solution is, Gates said he would like to see technology companies do more to help combat fake news.
"It started happening with the cable news channels and then it's more pronounced in the digital channels," Gates said. "How can we make this tool work the other way or at least offset that? There's room for more creativity here."
Gates spoke at length about the link between gender equality and poverty  — a topic on which Melinda Gates is typically more outspoken.
"In the U.S., there's no state where you can't go in and buy contraception," Bill Gates told Mic. "I wish the developing countries were getting to that point. There, it's still very much hard to find the tools of contraception."
According to Gates, access to contraception is one of the most effective ways to combat poverty. Gates is focused in particular on expanding access to contraception in developing countries to help limit family size and ease the financial burden of raising children on families.
Gates also discussed ways the foundation is working to combat HIV among the most vulnerable populations. He recently traveled to Bangalore, India, to meet with sex workers, many of whom turned to prostitution to help feed their families. Sex workers are vital allies in preventing the spread of HIV, Gates noted.
"By uplifting that whole community, letting them talk and trust each other, one of the outcomes was that they decided to really demand condom use in a way that avoided this widespread HIV infection in that group," Gates said.