Michael Flynn and Russia: Here's what we know about embattled Trump adviser's Russian ties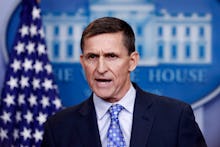 National security adviser Michael Flynn resigned Monday night after admitting he had, in fact, discussed former President Barack Obama's sanctions on Russian diplomats with Russia's ambassador. 
As Mic previously reported, Flynn apparently discussed the sanctions with Russian ambassador Sergey Kislyak in a December phone call, amounting to a possible violation of the Logan Act, which says citizens can't "confer with foreign governments against the interests of the United States."
But if nothing else, Flynn's attempt to soothe the worries of Russian officials went behind the backs of his bosses, President Donald Trump and Vice President Mike Pence, both of whom he reportedly mislead about the content of the phone call to begin with. 
Worry over Flynn's interactions with Russian government officials first flared up just days ahead of Trump's inauguration.
At the time, CNN reported Flynn and Kislyak had been in contact "on a number of issues," including the shooting of a Russian ambassador to Turkey and standard "holiday pleasantries." Then, of course, there was a phone call on Dec. 29 — the same day Obama announced Russian sanctions — that raised suspicions. 
"The call centered around the logistics of setting up a call with the president of Russia and the president-elect after he was sworn in, and they exchanged the logistical information," press secretary Sean Spicer insisted at the time, according to CNN. "That was it. Plain and simple."
But on Friday, Trump himself seemed to admit he didn't find Spicer's words all that reassuring — though it wasn't clear he understood the scope of concerns over Flynn. 
The president said at the time that he planned to "look into" reports that Flynn had, in fact, discussed the sanctions with Russian officials. 
"I don't know about that," Trump told reporters. "I haven't seen it."
Hopefully, Monday night's revelations cleared some things up for him.