'The Bachelorette' will finally be black. It's about damn time.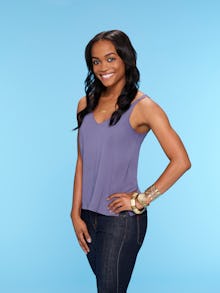 No one mentioned the shards of glass ceiling around Rachel Lindsay as she walked out onstage during Monday night's Jimmy Kimmel Live. She was there to help Jimmy Kimmel confirm a bit of news Bachelor blogger Reality Steve broke earlier in the day: Rachel will be the next lead of The Bachelorette.
But though they talked about a few things — notably, the awkwardness that Lindsay is still in the top four on the current season of The Bachelor, trying to win Nick Viall's heart in an attempt we now know was futile — they didn't mention the historic nature of Lindsay's casting. As the first black lead of either The Bachelorette or The Bachelor, Lindsay breaks a 33-season streak of almost entirely white leads (one American-born Venezuelan, Juan Pablo Galavis, led a season of The Bachelor).
It's about damn time the Bachelor franchise breaks that ground.
Let's state this plainly: It should never have taken 33 seasons for The Bachelor universe to cast a black lead. That's absurd, and the excuses for it have been equally absurd. In a 2011 Entertainment Weekly interview, creator Mike Fleiss (who, credit due, has been excited about making the Rachel Lindsay announcement for days) blamed people of color for not auditioning.
"We always want to cast for ethnic diversity, it's just that for whatever reason, they don't come forward," Fleiss said at the time. "I wish they would."
ABC Entertainment president Channing Dungey indirectly pointed out the flaw in this logic during last August's Television Critics Association press tour, noting that continually choosing the next bachelor or bachelorette from the previous season — as has happened for years — means you have to diversify casting from the outset.
"We need to increase the pool of diverse candidates in the beginning," she said. "That is something we really want to put some effort and energy towards."
Sure enough, after Viall's cast was the most diverse in franchise history, ABC found a worthy lead in Lindsay, a 31-year-old Texas attorney with a good head on her shoulders. She manages the rare feat of being a clearly decent person — not always the case on these shows! — who also doesn't seem over the show. She's game and fun, and watching her search for love will be a delight.
On Tuesday's Good Morning America, Lindsay gave a smart soundbite when asked about being the first black Bachelorette. "I don't feel added pressure," she said. "I'm honored to have this opportunity and to represent myself as an African-American woman. I hope that people rally behind me, like they did in Nick's season."
It's a remarkably thoughtful answer that both puts the achievement in perspective and also acknowledges the fact of the matter. Lindsay's not downplaying; she's just aware and humble.
ABC announcing Lindsay's casting so early is an unusual maneuver, given that the reveal of the next Bachelorette is often saved for the After the Final Rose special of each Bachelor season. But it simultaneously allows for more time for casting Lindsay's season (debuting May 22) and acknowledges that Viall's season has been something of a dud. 
It's admirable that The Bachelor team tried to fix an increasingly stale formula with a comeback kid like Viall. But the awkward elimination patterns this season and Viall's seeming inability to break up with a contestant without devastating them (see: Danielle Maltby on Monday night's episode) have made it feel like something of a slog to get through.
Now, fans who aren't loving this season have something to look forward to: Lindsay as star of The Bachelorette. Her elimination won't sting, because viewers will know she's got another, better gig ahead of her. Viall will choose one of the remaining women (almost certainly Vanessa Grimaldi or Raven Gates), and he'll ride off with her. We'll wave, and then we'll start the real party.
It took way too long for The Bachelor franchise to cast someone like Rachel Lindsay. No matter how great she is, or how many more bachelors and bachelorettes of color ABC casts from here, the show will forever have that mark on its record. 
But for now, we can celebrate Lindsay's ascendancy as she smashes through The Bachelorette's glass ceiling.