This Valentine's Day, 1 in 4 millennials is buying a gift for a secret lover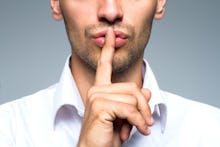 The Christmas of capitalism, Valentine's Day, is ostensibly about celebrating romantic partnerships, leaving unattached folks stressing they'll end up as cat ladies or lads who sit alone on library steps feeding pigeons. Or something.
But: Good news! Single guys and gals across the United States are reinventing the day's meaning — by being their own valentine. 
The voguish notion of "self-care" is perhaps transmuting into self-love, as 27% of singles and 33% of separated people are buying themselves Valentine's Day gifts, according to a new survey from price-comparing site Finder.com.
And there's more.
The survey unearthed some other interesting tidbits: Chiefly, 17% of Americans will be buying gifts for secret, illicit lovers.
That's right.
The study, via data collection company Pureprofile, surveyed more than 2,000 adults in January, including millennials, Generation Xers and Baby Boomers.
And it turns out millennials are the worst when it comes to sordid love affairs — or at least celebrating them — with about 1 in 4 saying they planned on buying gifts for clandestine lovers.
That number looks even starker compared to the percentage of other generations giving down-low gifts: 14% of Generation Xers and 8% of Boomers.
Fred Schebesta, Finder.com co-founder, thinks the meaning of Valentine's Day is changing all together — which might explain the surprisingly high numbers of people giving gifts outside of traditional relationships.
"I think what is interesting, if you're looking at it on a high level, is it's okay now to be single... there are more singles than couples," he said in a phone interview. "The idea of self-love is a [billion dollar] industry."
Schebesta also noted "it pays to be single," since coupled Americans spend, on average, more than $100 on their partners; meanwhile, single people will spend an average of $55 on their own gifts-to-self on Valentine's Day.
But hold up: The survey also gets a little weird. The same overall number of respondents who reported buying gifts for clandestine lovers — 17% — reported buying a Valentine's Day gift for their cat. 
And let's not forget the pups. Even more people, 28%, said they buy Valentine's Day gifts for their dogs. 
"Everyone loves a bit of unconditional love," Schebesta said of Valentine's Day pet gift giving. "If you go back a step, what we are kind of dealing with is loneliness. We don't like to be alone."
Fido and Whiskers might suggest their love is unconditional, but if the survey shows us anything, it's that love actually does have a price. 
At least on Valentine's Day.
Sign up for The Payoff — your weekly crash course on how to live your best financial life. Additionally, for all your burning money questions, check out Mic's credit, savings, career, investing and health care hubs for more information — that pays off.