How to get cast on 'The Bachelorette': Information on how to apply for Rachel Lindsay's season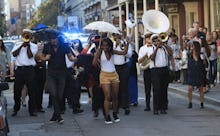 Rachel Lindsay will the first-ever black lead on any of The Bachelor franchise shows. Say ta-ta to a 33-season-long streak of white leads on both The Bachelor and The Bachelorette.
That's all fine and dandy for diversity — but now for the selfish question: How can you get on the show?
How to apply
Casting info to apply for Lindsay's season is now available. According to the official website, you can apply online or send in a paper application by snail mail. Got a friend who would be perfect for the show? You can nominate someone, too. 
First, you need to download the application or nomination form, which are different depending on if you want to apply yourself or nominate somebody. (Hey, nobody said you can't do both.) You must fill out the form and send it in with recent photos. 
A video, while not mandatory, is highly encouraged. As the production team wrote on the official site: "Making a video is the best way to show us your personality and ensure that you are seen by the casting team!!!" (The triple exclamation points are theirs.) There are specific taping instructions that must be followed. One of the key points is that your video must be saved to a USB drive or burned to a DVD; don't upload it online. Just remember to keep a copy because the team will not return your materials.
Casting calls also will be available in select areas. There are no casting locations listed on the website yet, but you can check here for updates.
Good luck! And may all of your dreams of true love come true! Because if you make it onto the show and win, People will definitely write about whether or not you and your main squeeze stay together. That's how TV gossip goes.
Mic has ongoing coverage of The Bachelorette. Follow the main Bachelorette hub here.