Rachel Lindsay: 7 things to know about the first black 'Bachelorette' star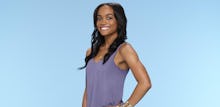 After 33 seasons of mainly white leads on both The Bachelor and The Bachelorette, ABC is finally changing things up for the next season of The Bachelorette. The popular reality TV show that chronicles a woman looking for a husband is about to have its first black bachelorette — and her name is Rachel Lindsay.
"I'm ready to find love, find a husband," Lindsay said on Jimmy Kimmel Live Monday night. "So if you know anybody out there who needs to apply, sign up, go ahead, get started." 
The announcement follows a 2012 lawsuit in which ABC and The Bachelorette's producers were sued for racial discrimination. The suit alleged that the creators of the show "knowingly, intentionally and as a matter of corporate policy refused to cast people of color in the role of The Bachelor and the Bachelorette." The lawsuit was dismissed, but diversity remained a subject of conversation. At the Television Critics Association press tour in August, ABC Entertainment President Channing Dungey said, "We need to increase the pool of diverse candidates in the beginning. That is something we really want to put some effort and energy towards." 
So who is the history-making woman? Read on to learn all about the newest Bachelorette. 
A good first impression
Lindsay received the first impression rose from current Bachelor Nick Viall, which stirred up a great deal of excitement from viewers. She was the first black contestant on either The Bachelor or The Bachelorette to receive the coveted first rose, and many thought of her as an early frontrunner on the show. But the contestant, who impressed viewers by staying level-headed in an emotional setting, does not find love with Viall.
A career woman
The Dallas-based contestant is an attorney who credits graduating law school and passing the bar as her greatest accomplishment. But when asked about her greatest regret, Lindsay's answer was that she focused too much on her career. 
Crossing racial boundaries 
On episode seven of The Bachelor 2017, Viall asked Lindsay, "Will I be similar to guys you dated before? Will I be different?" Lindsay confessed that she had never brought a white man home to meet her family: "I've dated white guys, I've never brought home a white guy," she said.
Nick asked her if her parents would mention it, and she told him, "If you saw my entire family ... it's not all black. I just want you to be yourself. If I'm bringing you home, it means something. And yes, they will be skeptical, and they will ask questions. But they know that I'm smart, too. I'm not going to come here for games." 
Her thoughts on Corinne
Corinne Olympios, a 24-year-old from Miami, was quickly labeled the "villain" on The Bachelor. She bragged about kissing Viall and interrupted other women's conversations with him, along with some other attention-grabbing moments, like going topless on her first date with Nick. But Lindsay defended Corrine when Jimmy Kimmel asked, "Is she as terrible in real life as she seems like she is?" Lindsay answered, "I like Corinne! I'm a Corinne fan!" Kimmel's response was to ask her if she had been vetted psychologically. 
Lindsay's dream guy 
"I'm looking for someone who's ready for what I'm ready for," she told Kimmel. "At this point in my life — 31 — I'm ready to find a husband, someone who's ready to start a family."
Humor is also important to Lindsay, who said she is looking for someone who can make her laugh. 
The 2017 season of 'The Bachelorette'
When asked if she felt any additional pressure about being the first black Bachelorette, Lindsay said, "I don't feel added pressure. I'm honored to have this opportunity and to represent myself as an African-American woman. I just hope that people rally behind me, like they did in Nick's season... I'm just trying to find love, and even though I'm an African-American woman, it's no different from any other Bachelorette."
Bringing Nick Viall home
On the upcoming hometown visit, Lindsay's mother does question Viall about his feelings regarding being in an interracial relationship, 
"I know my mom," Lindsay said on Good Morning America. "I am not shocked that my mom asked that. My sister is married to a white guy, so it's nothing new for our family. So she just wanted to make sure Nick was comfortable with it." 
Mic has ongoing Bachelorette coverage. Please follow our main Bachelorette hub.