Burger King introduces "Adults Meal," complete with toys, to sex up your Valentine's Day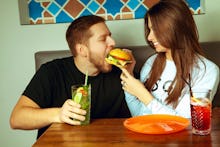 Because next to nothing is more romantic than Whoppers for two, Burger King is offering an "adults meal," complete with an "adults toy," in honor of Valentine's Day. 
"A kids meal? That's for kids," a disembodied voice explains in an ad for the meal, which includes two Whoppers, two bags of fries, two beers and a "romantic adult toy," according to CBS. 
Per the ad, the sex toys on offer — a sleep mask, a feather duster and a head scratcher — are not particularly sexy, but then, it's Burger King. No amount of porny background music can change that.
According to AdWeek, the Adults Meal is just one avenue of demographic targeting the burger giant is exploring. In Brazil, Burger King is testing out its King Senior meal, a two-Whopper combo meant to encourage people to take their older loved ones out to eat. 
The fast food chain's aphrodisiac special, though, is a one-night-only deal. It's available exclusively in Israel, to patrons ages 18 and over, from 6 p.m. until closing on Tuesday, Feb. 14. Have fun with those feather dusters, love birds.