For the first time ever, American Girl will release an American Boy doll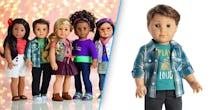 For more than 30 years now, American Girl has been one of the most progressive doll companies in existence, launching dolls (and accompanying books) that focus on young American girls throughout history, whether they are living in colonial America, living through slavery or living in the Great Depression. 
For its latest collection of dolls being released in 2017, American Girl is amping it up a bit. 
The set of dolls to be released in 2017 includes an Asian doll, a Hawaiian doll, an African-American doll and, for the very first time, a boy doll. 
As with any doll American Girl releases, there's a story for this young boy. 
Logan Everett is his name, and he lives in Nashville, where he plays drums alongside his friend Tenney Grant, another new doll who happens to be a singer-songwriter in Nashville. 
In the first images of the doll, Logan is dressed in modern attire, with dark-wash jeans, a T-shirt and a button-down. Probably not all that different than what middle schoolers are wearing right this moment. 
According to American Girl's director of public relations, Julie Parks, Everett is a long time coming. 
This 2017 collection was seemingly in response to the company's constant request from parents for "more experiences, more diversity, more interests."
"Adding a boy to our lineup has been a number one request for a very, very, very long time," Parks told the Huffington Post. "For a long time, we've been hearing, 'We want more.'"
And for you old school American Girl fanatics out there, you may have noticed a familiar face in this doll class of 2017. Hold onto your bonnets, because Felicity Merriman, the girl living in Colonial America with an affinity for horses, is back, bitches. 
But really, this American Boy doll comes at a time when boys are being brought more into the doll fold. Barbie has started casting boys in its commercials, there's now a more realistic male doll too. 
Now with American Girl getting in on this male doll revolution, we can only expect more of this to come.