ICE Raids 2017: Latest news on immigration raids that resulted in 680 arrests last week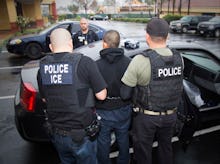 United States Immigration and Customs Enforcement arrested more than 680 individuals in what Department of Homeland Security Secretary John F. Kelly called a series of "targeted enforcement operations," according to a DHS statement released Monday. 
Kelly said the raids targeted "public safety threats," among which he included immigrants with criminal records, gang members and those who violated U.S. immigration laws. Under this definition, as the Washington Post pointed out, all 11 million undocumented immigrants would be eligible for arrest. 
The raids took place in 12 states — New York, California, Illinois, Texas, Missouri, Kansas, Georgia, North Carolina, South Carolina, Kentucky, Indiana and Wisconsin.
Immigrants rights groups who spoke to the Washington Post said the deportations differed in nature from those under Obama. 
"Eighty-five percent of all removals and returns during fiscal year (FY) 2016 were of noncitizens who had recently crossed the U.S. border unlawfully," a Migration Policy Institute report stated. "Of the remainder, who were removed from the U.S. interior, more than 90 percent had been convicted of what DHS defines as serious crimes." 
According to the DHS release, 75% of those arrested last week had criminal convictions. By targeting people the government has not determined as dangerous and carrying out the raids during daylight hours in homes, on the road and at people's places of employment, ICE may be looking to intimidate immigrant communities, the groups believe. 
"The Obama administration shied away from big displays of enforcement because it would alienate their base," J. Kevin Appleby, senior director of international migration policy for the Center for Migration ­Studies of New York, told the Washington Post. "For Trump, it is red meat for his supporters and fulfills a campaign pledge." 
In a teleconference with reporters, Sulma Arias of the Center for Community Change called the raids "not normal" and a "horrific overreach that will destroy families and undermine the American Dream for thousands," according to the Washington Post.  
In a statement on their website, the New York Immigration Coalition said it was "horrified and angered" by the raids, which they said included 40 New Yorkers. The group called for the immediate halt of the raids. 
"Shame on ICE for putting New York's immigrant communities — four million strong — in a state of panic," the statement said. "These arrests do nothing but tear families apart, hobble our economies, and corrode the bonds of trust that tie our communities together — all under the false pretense of 'public safety.'"
The statement is correct about tearing families apart. There are currently 3.3 million mixed-status households in the United States. Combined, these homes house 5.7 million U.S.-born children under 18.