Will 'The New Celebrity Apprentice' be renewed or canceled?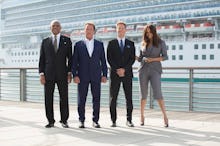 If you check out Twitter, you'll know that many viewers have strong opinions about Boy George losing to Matt Iseman on The New Celebrity Apprentice. 
Yet despite the Twitter flurry, the show lacks a strong following. Last month, The Wrap reported that The New Celebrity Apprentice's ratings dropped to a new low. The NBC series averages a 1.0 rating for adults ages 18 to 49 (with 3.8 million viewers). Compare that to ABC's The Bachelor, which airs in the same time slot and averages a 2.4 rating (7.3 million viewers). 
Trump's criticism
Executive producer Donald Trump has tweeted harsh words about the ratings— and even used time at the National Prayer Breakfast to slam new host Arnold Schwarzenegger for the drop in viewership.
Of course, this is not the first time Trump has tweeted insults or threats, but he is right about one thing: The show's ratings are flailing. Where he's wrong? Those ratings are not totally Schwarzenegger's fault. As Salon writer Melanie McFarland pointed out, he inherited a show that was already in decline. (Funny how Trump didn't acknowledge that.)
Cancellation on the horizon?
Bustle writer Andrea Towers asked what many viewers want to know: Will Schwarzenegger get another opportunity to tell people they're fired? There's no official word on the series' return, so we can only speculate.
Even if Trump hasn't been too kind about the show's ratings, it's still his show. We know from the 2016 presidential campaign alone that he is a persistent man; it didn't matter to him that some say he's unqualified to serve as the U.S. head of state. If he wants something, he will go for it, no matter how mediocre. But even if The New Celebrity Apprentice continues, there's no guarantee that Schwarzenegger will come with it.