Oscars 2017 predictions: Who will win best director?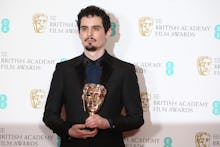 It's time to accept that La La Land is going to win everything at the 2017 Academy Awards.
Well, not everything: Ryan Gosling is probably going to miss best actor, and I think the sound editing will lose out to something like Hacksaw Ridge. But just like 25 beat out Lemonade, La La Land is going to beat out Moonlight. And Hidden Figures. And everything else.
Case in point: the best director race. I, like many, would prefer to see Barry Jenkins win for directing the audacious artist's statement that is Moonlight. His work on the film showed singular vision that the Oscars should reward. Denis Villeneuve is also a deserving winner for Arrival. But Damien Chazelle, who won the Directors Guild of America and BAFTA prizes for best director, is the clear frontrunner.
La La Land is beloved for its sweeping scope, despite its technical ambition occasionally failing it. Chazelle will get the credit for that, and he will win the Oscar. That's not a debate at this point, frankly; This Oscar race, like so many, is all but wrapped up.
We've almost wrapped our predictions for the 2017 Oscars, with only best picture to be discussed next week. (We're ignoring the impossible-to-predict shorts categories.) So let's run through the remaining three categories: the two screenplay races, and documentary feature. The full list of nominees can be found here.
Best documentary feature
This is an extraordinarily strong category with some truly worthy winners. The 13th is probably the most deserving, especially because it'll make the great Ava DuVernay an Oscar winner, righting the wrong of her best director snub for Selma. But O.J.: Made in America is a sprawling, ambitious piece. It feels like the obvious pick for Oscar voters.
Should win: The 13th
Best original screenplay
20th Century Women is one of the most extraordinary films of the year, and it should've gotten eight Oscar nominations. This, for Mike Mills' wise and wondrous script, is its only nod, and it will lose to La La Land. Manchester by the Sea could possibly win, but again, I'm banking on La La Land winning all but best actor and best sound design.
Should win: 20th Century Women
Best adapted screenplay
Considering most of the tough competition is fighting it out in original screenplay, this category will be easy for Moonlight's Jenkins to win in a walk. It'll be a nice consolation prize for losing best director.
Should win: Moonlight