This tweet perfectly sums up the chaos in Donald Trump's White House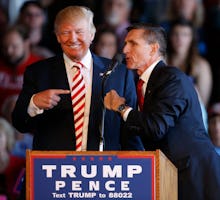 President Donald Trump's national security adviser Mike Flynn resigned in scandal Monday night over misleading White House officials on a potentially illegal conversation he had with the Russian ambassador.
Yet Trump, in his first public statement on the scandal, is not focused on Flynn's behavior, but rather on the fact that the public found out about what Flynn did. 
"The real story here is why are there so many illegal leaks coming out of Washington?" Trump tweeted. "Will these leaks be happening as I deal on N.Korea etc?"
Trump's attempt to distract from the Flynn scandal with his tweet serves only to draw attention to the fact that his White House is plagued by leaks from his own staff.
Those leaks are a direct indictment of Trump's leadership skills.
And Trump's complaint about leaks smacks of hypocrisy. He celebrated the organization perhaps best known for leaking government secrets, WikiLeaks, when it released hacked emails from Hillary Clinton's campaign chairman John Podesta during the election.
"I love WikiLeaks!" Trump exclaimed during an October campaign rally in Pennsylvania, when the WikiLeaks email release was in full swing.
Still, House Republicans are taking Trump's side, calling for investigations into who leaked the information about Flynn's dealings with Russia, rather than the nature of his dealings or whether they were ordered by anyone in the Trump administration — not to mention what Trump himself knew and when.
Democrats, however, are calling for an investigation, asking for the FBI to get involved.
"The American people deserve to know the full extent of Russia's financial, personal and political grip on President Trump and what that means for our national security," House Minority Leader Nancy Pelosi said in a statement.