California Dam: Latest updates on the potential Lake Oroville dam failure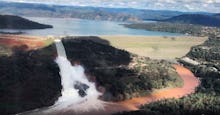 As storms threatened to roll into Northern California this week, state officials raced to remove at least 50 feet of water from the overflowing Lake Oroville in the hopes of preventing disastrous flooding that would occur if the lake's dam were to burst.
Tens of thousands of people received orders to evacuate homes located downstream from Lake Oroville on Sunday after it was discovered that the lake's emergency spillway had sustained damage from erosion and was in danger of bursting.
According to the Los Angeles Times, water resource officials set to work on skimming water out of the brimming lake on Monday in an effort to prevent a "30-foot wall" of water from surging into nearby towns. 
"I've been doing these flood battles since 1978," state Sen. Jim Nielsen told the Los Angeles Times. "This is the one with the greatest potential for damage of all the ones I've dealt with."
Bad weather warnings
As workers rush to make the fixes, inclement weather looms, said Tom Dang, a National Weather Service meteorologist in Sacramento.
"Obviously any rain this week is not helpful at all," he said.
CNN Senior Meteorologist Dave Hennen forecasted rain beginning on Wednesday, with storms sticking around for the weekend.
The heavy rains threaten to total between 5 and 12 inches, which could quickly reverse the efforts of officials hurrying to remove water from the lake.
Displaced families
The Lake Oroville Dam, the tallest in the U.S., is responsible for preventing flooding in Butte, Sutter and Yuba counties — all of which received mandatory evacuation orders on Sunday, CNN reports.
Families forced to flee have taken up temporary residence in shelters, tents and parking lots, and many are eager to get back to the homes they left behind.
"It was miserable," Pat Dailey told CNN affiliate KGO of sleeping in her car with her husband and four dogs the previous night. "We didn't sleep. There was people walking and people talking all night long."
But while the repairs to the dam are ongoing, California Gov. Jerry Brown has continued to urge residents to stay away from their homes in the flood zone.
"We're doing everything we can to get this dam in shape so (evacuees]) can return and live safely without fear," he said at a press conference on Monday.