PAL-V Flying Car: You can now buy a car that flies through the air at 112 mph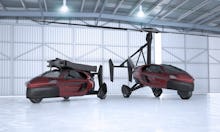 If you've ever dreamt of a vehicle that can navigate roads as seamlessly as the sky, you're in luck. Thanks to a Dutch vehicle manufacturer, flying cars are now commercially available for the first time ever.
PAL-V created the Liberty flying car, which can fly at speeds of up to 112 mph using a wind-powered retractable top-mounted rotor blade and has fuel efficiency of 310 miles per full tank in the air. The vehicle is also equipped with a pair of fully certified airplane engines. 
It can reach speeds of up to 100 mph on the road, going from 0-62 mph in nine seconds, with a range of 817 miles and a fuel efficiency of 31 mpg. The car-turned-helicopter runs on both normal car gasoline and Mogas, which is available at many airports, according to PAL-V.
The three-wheeler vehicle has a lightweight carbon-body shell and comes in two models: the Liberty Sport and the Liberty Pioneer. The former starts at $400,000, while the latter's base model begins at $600,000. When you drop a couple hundred thousand dollars on the two-person vehicle, you also get at-home training sessions, power heating and an electronic flight instrument display. Pal-V notes the vehicles will be available in a "broad" range of colors and there will be customization options to select from.
According to PAL-V, the Liberty needs a 100-650 foot by 60-foot area for takeoff and landing. The maximum recommended takeoff weight is 2,000 pounds; anything more would reduce the carrier's flying range. You'll need a pilot's license to fly the vehicle, much like driving it on the ground requires a driver's license. Both vehicles were reportedly developed in compliance with existing U.S. and European regulations.
"After years of hard work, beating the technical and qualification challenges, our team succeeded in creating an innovative flying car that complies with existing safety standards determined by regulatory bodies around the world," PAL-V CEO Robert Dingemanse said in a statement.  
While it is available for pre-order now, first deliveries of the Liberty Pioneer won't begin until the end of 2018. PAL-V, which has been concept testing the flying car since 2009, will reportedly make just 90 vehicles initially.