'For Honor: Gold Edition' Code Not Working? Players report issues with the special release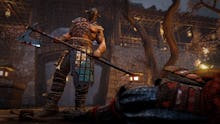 There might be another holiday today, but for a certain Ubisoft development team and plenty of combat-craving fans, it's For Honor day. After an open beta introduced tons of players to the game's distinctive multiplayer melee action, some players went out and bought the game's $100 gold edition.
That's all well and good, but it's a bit of a problem if the included code to unlock the gold edition's bonus content doesn't work. Unfortunately, that's exactly what some players are reporting on various support forums.
For Honor: Gold Edition code not working? Here's why
Most of the complaints are coming from people who purchased the gold edition for PlayStation 4. Almost any forum thread about this that you can find speculates that the code can't be redeemed just yet simply because the PlayStation Store hasn't been updated.
The PS4's digital storefront updates every Tuesday with that week's newest games, trailers, demos and more. The update tends to happen at some point during the day rather than right at midnight. If the For Honor: Gold Edition code isn't redeeming correctly, it could just mean that content hasn't been added to the PlayStation Store yet and you should wait until later today. 
We've reached out to Ubisoft for comment on this issue and will update this story if we hear anything.
More For Honor tips, tricks and guides
Looking for more help with For Honor? Check out Mic's guides for how to parry, how to execute, how to throw, how to revive and what to expect from the game's single-player campaign.