The Women's March on Washington founders just opened a show at New York Fashion Week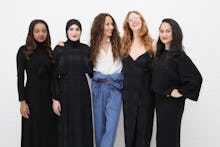 Feminism has taken over New York Fashion Week. Models have stomped down the runway in feminist statement T-shirts and major designers and show attendees are being seen wearing pins in support of Planned Parenthood at the shows. 
On Monday, designer Mara Hoffman put this feminist NYFW overhaul into overdrive, inviting the founders of the Women's March on Washington to open her show. 
Before a single model emerged, there stood Bob Bland (with baby in tow), Tamika Mallory, Carmen Perez and Linda Sarsour, all co-chairs of the march, each taking turns to speak. 
"Unity, love and strength, with a message that women's rights are human rights. We stand together in solidarity, recognizing that our vibrant and diverse community are the strength of our country. Hear our voice," Perez said. 
"Love recognizes no barriers. It jumps hurdles, leaps fences, penetrates walls to arrive at its destination full of hope," Sarsour said, reciting a famous quote from Maya Angelou. "We affirm our shared humanity. And pronounce our bold message of resistance and determination. We must create a society in which all women are free." 
Inspiration for this sort of action came to Hoffman after she herself went to Washington for the march just a few weeks ago and was overwhelmed by the experience. 
"The turnout was unbelievable to me," Hoffman told the Washington Post. "There was this kind of 'holy cow' moment; these women just pulled off something I've never seen before. In response to seeing that incredible thing happening, how do you continue that?" 
For a fashion designer, the answer is: Bring the march to New York Fashion Week. 
In addition to letting the women speak, Hoffman had her models dance around her runway as Maya Angelou's poem "Phenomenal Woman" was being read aloud. 
So the spirit of the Women's March lives on, at New York Fashion Week of all places.