Kehlani fans throw support behind singer after breakdown on stage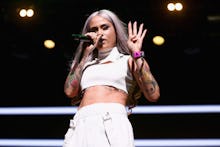 Things took a turn for the worse for R&B singer Kehlani on Monday night during a concert in Grand Rapids, Michigan.
Kehlani came out on stage before her performance and told the audience that she could not perform that evening. While crying, the singer said that she "felt crazy" and was going to go to the hospital. She also promised the crowd she would reschedule the concert as soon as possible. 
Her fans have rallied behind her on Twitter to share their support:
On Tuesday, Kehlani posted a video on Instagram updating fans on her status, saying she's doing mentally well and is just physically exhausted.
In March 2016, Kehlani was temporarily placed on a psychiatric hold after first responders were called to her home. The singer reportedly wanted to harm herself after rumors began spreading of her cheating on then-boyfriend Kyrie Irving. 
The singer has been outspoken regarding mental health issues since her psychiatric hold. At a concert in April 2016, she spoke to the audience about being vocal about it.  
"It's something that so many young people are dealing with, and so many people just slip under the rug to things like depression, and severe anxiety and many disorders that people know nothing about," she said. 
Mic has ongoing music coverage. Please follow our main music hub here.