This is why Britney Spears and Justin Timberlake broke up — according to Lifetime's Britney movie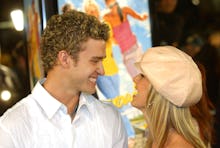 As the world anticipates the upcoming Britney Spears Lifetime movie, Britney Ever After, People shared an exclusive new clip of a pivotal scene. 
The world stopped for most teenagers when Spears and Justin Timberlake broke up. In the clip, the young couple have a big fight over Spears allegedly cheating on Timberlake with her choreographer, Wade Robson.
"Justin, it's not what you think," Spears, played by Natasha Bassett, says after walking into the room, just in time for the drama to unfold. "Wade! Is something going on with Wade?" an anguished Timberlake, played by Nathan Keyes, demands to know. 
Spears and Timberlake famously split in 2002. Spears was rumored to have cheated on Timberlake with Robson while they were dating. The tumultuous breakup between the two pop stars lead to a lot of things: Timberlake rebounded with Alyssa Milano — and, of course, the affair inspired his solo hit "Cry Me a River." 
It also resulted in an alleged infamous dance-off between the exes when they reunited unexpectedly one night. 
Several months after the couple split, they ran into each at a club in Los Angeles called the Lounge. The two got into an argument over what really went down between them, and then, with their respective parties, had a dance-off. The rumored incident naturally became a sketch on Saturday Night Live. 
We'll have to wait and see if the dance-off makes it into the TV biopic when Britney Ever After premieres Saturday, Feb. 18 at 8 p.m. Eastern on Lifetime.