Trump confidant Roger Stone knows who to blame for leaking: GOP "establishment assholes"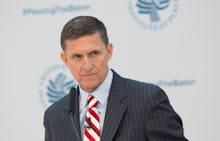 As President Donald Trump tries to stay on course after the dramatic late night resignation of national security adviser Michael Flynn, an architect of the winning presidential campaign said the best thing Trump can do is purge the enemies within.
Trump's response to Flynn's resignation so far has been a single tweet taking aim at the dime-droppers who exposed Flynn's falsehoods. Longtime Trump confidant Roger Stone seems to think he knows where those leaks are coming from. 
"It's establishment Republicans who don't really support his agenda and who leak like a sieve," Stone said by phone Tuesday. "So I am hopeful he will hire more Trump supporters and fewer establishment Republicans who are [not] loyal to him and his agenda."
Stone singled out presidential Chief of Staff Reince Priebus, former head of the Republican National Committee, as an exemplar of someone who's not fully on board with the Trump program.
"It's very hard to fathom why this guy is the chief of staff," Stone said. "He's loyal to the status quo and he's loyal to the big donors to the RNC — who are not the big donors to Donald Trump."
The White House did not immediately respond to a request for comment on Stone.
But Trump's Twitter feed suggests he's got his own concerns about who's sharing secrets. "The real story here is why are there so many illegal leaks coming out of Washington? Will these leaks be happening as I deal on N. Korea, etc.?" he tweeted Tuesday.
"Disorganization and discord is never a good story," Stone said. "Appoint Trump people who are competent, and you won't have these problems."
More broadly, Stone, who officially parted ways with the campaign a few months after its mid-2015 launch while remaining a defender of the then-candidate, downplayed Flynn's resignation as a major blow to the administration.
"No average person cares" about Flynn, Stone insisted, denying the departure is a fatal blow to the new administration. "This is an 'inside the beltway' story."
If Trump wants to retrain the public eye on what he means to do as president, Stone said, "The single best thing he can do is stick to his agenda and not get dissuaded, so when the establishment assholes tell you the wall can't be built, you tell them, 'Yes, it can be built.'"
Political insiders had a few words of advice for Trump as to the road ahead.
One source suggested it would be at the very least bad optics for Trump to replace Flynn with former CIA Director David Petraeus, considering the baggage the retired general would bring. Another source flatly said Trump should "lawyer up," as the Oval Office is bound to face questions about how high up the Flynn scandal actually went.
What's next after the Flynn fallout? "More scandals. More resignations. More lies," Doug Muzzio of the Baruch College School of Public Affairs at the City University of New York suggested via email
Larry Sabato of the University of Virginia's Center for Politics said "the safest prediction of the year" when it comes to the nascent Trump administration is simply "more chaos and controversy." 
Sabato said since "many of Trump's top campaign promises are tied up in the courts or Congress, it's going to be a long grind."
In a nod to reports of power struggles at the very highest levels of the Cabinet, Sabato said, in an email, "Trump is learning how easy campaigning is, compared with governing. Can the Trump team adapt or does it need to be shaken up further? Probably the latter is required."
Evan Siegfried, a New York-based Republican consultant who opposed Trump during the election but says he now hopes the president will lead effectively, said Tuesday by phone that the Flynn dustup ideally "is a good chance for Trump to reset."
Siegfried said Trump's best bet would be to select a new "national security chief who brings calm amid the storm. That chief should have a lower public profile than Flynn, but also have even more knowledge and respect throughout the intelligence and national security communities."
If Trump doesn't do that, GOP and security community "angst will only grow," Siegfried said, "and the White House will continue to be viewed as dysfunctional."