The next time someone tells you sexism is over, show them these statistics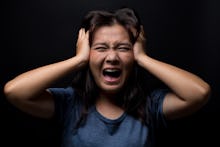 A reported 56% of men believe sexism is over. Are they ever wrong.
Every day, countless women experience sexual violence and harassment at work, on the street and online — to name but a few of the ways sexism manifests itself. Even women who are explicitly anti-feminist, like Kellyanne Conway, for instance, can attest to the fact that sexism is both a persistent and pervasive fixture in women's daily lives.
"I encountered all kinds of sexism," Conway, speaking about her early career, recently told Cosmopolitan. "The most extreme examples were unwanted sexual advances. Always by older men, often in positions of power, with some fancy title before their name and an 'R' or a 'D' after it."
These men, she said, would do to her what today would qualify as sexual assault, because they thought they had the right to. They would also fail to pull their professional weight, she recalled.
"The other way sexism would happen is that I'd get hired to do a project and would always get the focus groups," Conway told Cosmo, adding that a male pollster would be given a cushy office job that allowed him to "sit on his ass and watch the data come in while I'd fly all around the country and live out of a suitcase." 
Conway — and, perhaps, that 56% of men — may believe we're living in a post-feminist world, but the numbers say otherwise. In the workplace, online, in education and at the drugstore, sexism continues to thrive. 
Workplace sexual harassment 
In 2015, Cosmopolitan surveyed 2,235 women between the ages of 18 and 34 and found one in three had suffered sexual harassment on the job. That same year, the Equal Employment Opportunity Commission dismissed 52% of sexual harassment claims. That might help explain why, in a 2013 YouGov/Huffington Post poll, 70% of participants who said they had been sexually harassed at work also said they never reported the behavior.  
It's not just the U.S. that has the problem.
A study from August found that 52% of U.K. women had been sexually harassed at work. The European Union estimates that between 40% and 50% of women "experience unwanted sexual advancements, physical contact or other forms of sexual harassment at their workplace."
Online harassment
Unsurprisingly, women face a very particular brand of online harassment at a higher rate than men do: A 2014 Pew Research study on online harassment indicated that women were more likely to be sexually harassed and stalked online. 
Twenty-five percent of women between the ages of 18 and 24 reported having been sexually harassed, against 13% of men in the same age bracket; 26% reported having been stalked, to just 7% of men. 
In Australia, the digital security firm Norton surveyed 1,000 people in March. Almost half the female participants reported having been harassed online — which is to say, they'd received unwanted contact, rape and/or death threats or had simply been trolled. 
Women under the age of 30 seemed to shoulder more abuse, with 76% of participants in that age bracket reportedly having been the victims of cyber harassment. The problem was so bad, the researchers said online harassment of women was at risk of becoming "an established norm in our digital society."
In April, the Guardian combed its comments section to investigate which of its journalists were getting worst abused by readers. Of the 10 most mistreated writers, eight were women. The 10 writers who received the lowest number of damning criticism? Men — each and every one. 
The gender wage gap that just won't quit
An October 2016 report by the National Partnership for Women and Families showed that, on average, women nationwide make 80 cents to men's dollar. 
Adding another layer of badness to the equation, that higher education women are more likely to have doesn't seem to be getting them anywhere. The same 2016 report indicates that women with doctoral degrees tend to make less than men with master's degrees, while women with master's degrees tend to make less than men with bachelor's degrees — and 72 cents on the dollar when compared with male master's degree holders.
In 2015, there were more CEOs named John than there were female CEOs of all names, according to Payscale. That makes sense given that, according to Forbes, just 4% of Fortune 500 companies have women at the helm. Similarly, women accounted for roughly 10% of start-up founders in 2015, and owned just over a third — 36% — of small businesses, according to the Atlantic. The landscape is even less friendly to women of color. 
A recent study found men are granted promotions to first-tier managerial positions 30% more often than women, confirming the results of a separate study that found women do actually ask for raises as often as men do — it's just that they're more likely to be told "no."
Graduation rates
The pay gap and its attendant sex-segregation in employment are especially frustrating considering women's dominance in higher education. According to the National Center for Education Statistics, in the 2013-2014 school year, women earned more degrees across all the fields than men did. Male students earned 801,692 bachelor's degrees to female students' 1,068,122 bachelor's degrees, 302,807 master's degrees to females students' 451,668 and 85,587 doctoral degrees to female students' 91,993. 
Sexual violence
In 2013, the World Health Organization declared violence against women "a global health problem of epidemic proportions." The report that spurred the statement found that 35% of the world's women were victims of "physical or sexual violence." Additionally, 38% of women who were murdered worldwide were murdered by their intimate partners, while 42% of women who'd been physically or sexually abused by their partners sustained injuries. These women were also more likely to contract sexually transmitted infections. 
Whereas one in five women has been raped in her lifetime, just one in 71 men can say the same, according to the National Coalition Against Domestic Violence. Women are also more likely to be abused by their partners — one in three women versus one in four men — and more likely to be stalked. According to NCADV, one in seven women will be stalked to one in 18 men. 
Pink tax
Recently, this writer walked into a Levi's store and bought two pairs of pants, both 501 skinny jeans, one from the women's section and one from the men's. Although the men's pair involve more fabric, they cost less money — about $20 less. It's hard to come up with a good reason for this discrepancy that isn't, ultimately, sexism. 
Men's products tend to be cheaper than women's products, even when their components are exactly the same — a prime example of patriarchal scamming. 
A study by New York City Department of Consumer Affairs found that products "for women" cost an average 7% more than their male counterparts: Girls' toys and accessories cost 7% more than boys; girls' clothing cost 4% more than boys'; women's clothing cost 8% more than men's; women's hygiene products cost 13% more than men's; and home and health care products for senior women cost 8% more than those for men. 
In 2016, Mic writer Rachel Lubitz spent a week buying for-men products where she'd usually buy women's. Lubitz saved $23.38 in seven days. Over the course of a lifetime, that adds up: It works out to around $1,215.76 in a year, which, applied over the approximately 50 years remaining in a female 20-something's average life expectancy, would yield savings of nearly $61,000. 
Is that enough to make up for a lifetime spent laboring under the gender pay gap and the unflagging tenacity of everyday sexism? You be the judge.