Does the Mike Flynn scandal go all the way up to Donald Trump?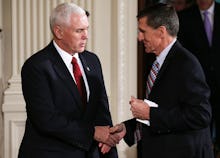 Mike Flynn resigned from his role as national security adviser late Monday night over misleading the Trump administration about a potentially improper call with the Russian ambassador.
But the scandal over Flynn's communication with the Russian government is far from over.
In the wake of Flynn's resignation, Capitol Hill Democrats are calling for an investigation into how high up the food chain Flynn's conversation with Ambassador Sergey Kislyak goes. 
And, most notably, whether the scandal will ever touch President Donald Trump.
Reports surfaced Monday that the Department of Justice had gone to the Trump White House in January to say that Flynn had misled the public, as well as Vice President Mike Pence, about his conversation with Kislyak, the Washington Post reported. 
The department also told the Trump White House that Flynn was potentially vulnerable to Russian blackmail, according to the Washington Post report.
But since Flynn's resignation, the Trump White House has thus far declined to comment about what Trump knew of Flynn's conversation.
In an interview with NBC's Today, top Trump adviser Kellyanne Conway declined to comment on the timeline.
"That makes no sense," an incredulous Matt Lauer told Conway. "Last month the Justice Department had warned the White House that Gen. Flynn had misled them and that as a result he was vulnerable to blackmail, and at that moment he still had the complete trust of the president?"
Democrats, for their part, are not buying the Trump administration's timeline.
Rep. Jim Himes (D-Conn.) said in a statement that it's "very unlikely that Flynn acted alone in his outreach to the Russians and it is essential that we get a full accounting of all of the administration's ties and communications with Russia before and after the inauguration."
Rep. Adam Schiff, a California Democrat and ranking member on the House Select Committee on Intelligence, expressed similar sentiments, saying in a Monday night statement that, "Flynn's departure does not end questions over his contacts with the Russians."
"The Trump administration has yet to be forthcoming about who was aware of Flynn's conversations with the ambassador and whether he was acting on the instructions of the president or any other officials, or with their knowledge," Schiff continued.
"When did @WhiteHouse know that Flynn lied? What other contacts with Russia occurred during the campaign? Who knew what? Who approved what?" Sen. Elizabeth Warren (D-Mass.) tweeted Tuesday morning.
"Congress must pull its head out of the sand and launch a real, bipartisan, transparent inquiry into Russia," Warren continued. "Our natl security is at stake."
Still, it's unclear whether a congressional investigation will take place.  
Republicans are in control of both chambers of Congress, and it's up to GOP leadership to decide whether to launch an investigation into the Flynn scandal. 
House Speaker Paul Ryan declined to call for a congressional inquiry into Flynn's Russian dealings during a Tuesday morning news conference on Capitol Hill.
Rep. Jason Chaffetz, the Utah Republican who chairs the powerful House Oversight Committee that spent years investigating Hillary Clinton's role in Benghazi, also declined to launch an investigation, telling reporters Tuesday morning that the Flynn situation is "taking care of itself."
And Rep. Devin Nunes, a California Republican who chairs the House Intelligence Committee, is more focused on investigating who leaked information about Flynn's contacts with Russia — rather than whether the substance of that call was improper, and if Trump himself is implicated.
Some Senate Republicans are speaking out.
Sen. Roy Blunt (R-Mo.) said the Senate Intelligence Committee should launch an "exhaustive" probe of the Trump administration's Russia ties, and question Flynn in the process, CNN reported.