D.R.A.M. drops "Cute," 2017's ultimate Valentine's Day music video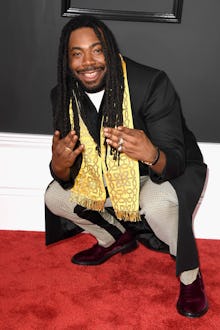 Coming off a Grammy loss for best rap/sung performance for his "Broccoli" single, D.R.A.M. has returned with the latest video off his delightfully quirky Big Baby D.R.A.M., right in time for Valentine's Day. Tuesday, the Hampton, Virginia, rapper dropped a video for "Cute," which shows the rapper roaming the streets alongside a puppet version of himself, looking for love. 
Their adorable misadventures absolutely live up to the song's title and endearing hook.
"Cute" is one of the clear standouts on Big Baby D.R.A.M. and a solid introduction to the artist's goofy, light trap. The verses and choruses brim with positivity and light romance: "Even though it's cliché, I saw you on your Instagram and / I think you're cute, I think you're cute."
In the past year and a half, D.R.A.M. has carved out a space for himself as one of the pioneers of the oddball rap subgenre, alongside Chance the Rapper, Lil Yachty and Young Thug. He earned his own track on Chance the Rapper's Grammy award-winning Coloring Book, "D.R.A.M. Sings Special," a song which plays a key role in Chance's elaborate Coloring Book stage show.
Now that he's got a taste for Grammy gold with his nomination and Coloring Book contribution, expect a lot more from the rapper in the near future. Watch the video for "Cute" below:
Mic has ongoing music coverage. Follow our main music hub here.