'Beauty and the Beast' Movie: Watch Josh Gad and Luke Evans sing "Gaston"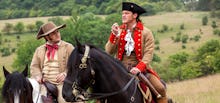 As we continue to anticipate Disney's live-action retelling of Beauty and the Beast, a new clip of the cast singing has been released via ABC's Good Morning America Twitter account.
In the clip from the Bill Condon-directed remake, Josh Gad and Luke Evans sing "Gaston." Evans plays the villainous Gaston, and Gad is his sidekick, Le Fou. The two characters lead a tavern full of patrons in a rousing rendition of the classic song. 
This clip comes after the just-released Ariana Grande and John Legend duet of the title song from the 1991 animated film. The track was originally recorded for the soundtrack by Celine Dion and Peabo Bryson, but we feel Grande and Legend's new version does the song justice. 
Disney's Beauty and the Beast hits theaters on March 17. 
Mic has ongoing Beauty and the Beast coverage. Please follow our main Beauty and the Beast hub.