'Injustice 2' Roster Leak: New Valentine's trailer contradicts earlier character rumors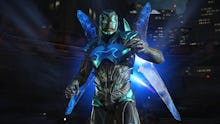 It's Valentine's Day, but that won't stop video game companies from dropping news bombs on us. This time it's Injustice 2, the DC Comics fighting game that's been revealing new characters at a steady clip for weeks now.
Injustice 2 Roster: New trailer reveals Cheetah, Poison Ivy and Catwoman.
A trio of new combatants was revealed in the newest trailer, confirming the addition of Poison Ivy, Cheetah and Catwoman to the Injustice 2 roster. They all appear to play pretty much exactly as you'd expect. 
Cheetah quickly slashes at enemies with her claws, while Poison Ivy manipulates plant life to do her bidding. Catwoman has a whip she can use to attack enemies from a short distance. 
Catwoman and Poison Ivy were shoo-ins to show up in this game, but Cheetah certainly wasn't. An old adversary of Wonder Woman, the character isn't one of the more prominent villains these days. It's always good to see more obscure characters included, though.
This whole announcement is also a bit of a surprise, considering Swamp Thing was already revealed this week. But, hey, we won't complain about even more Injustice 2 character reveals.
Injustice 2 Leaked Roster: Does it still hold up?
A purported roster leaked on 4chan last month, which contained many characters not yet revealed at the time. A few of them, such as Black Canary, have been revealed since then, theoretically legitimizing the leak.
However, that leaked roster apparently didn't include Swamp Thing or Cheetah, which could call its validity into question. If we're being honest, it wouldn't be that difficult to gin up a fake roster for a game based on several decades of comic book history. 
For example: The leaked roster indicated that both the Hal Jordan and John Stewart Green Lanterns would be playable. We now know this is technically true, but only as separate skins of the same character. It just goes to show that not every leak is to be trusted.
More fighting game news and updates
While you wait for more Injustice 2 character reveals, read more fighting game news on Mic. Find out more about Super Smash Bros. for Switch, the Injustice 2 roster, the Tekken 7 console release date, what to expect from Marvel vs. Capcom: Infinite and the Evo 2017 lineup.