With "Xxpen$ive," Erika Jayne proves she's the truest 'Real Housewives' pop star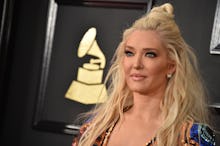 Erika Jayne — also known as Erika Girardi — released her newest music video on Tuesday for her song "Xxpen$ive." 
In the video, Jayne goes full pop star with several sets, outfit changes and a slew of backup dancers. The singer even does splits while serving us flawless choreography. 
Not that there was any doubt before, but with "Xxpen$ive," Jayne solidifies herself as the truest pop star to come out of Bravo's Real Housewives franchise. Her music is smart, catchy — and she has her tongue permanently in her cheek, making her more self-aware than her peers. 
Jayne is, of course, no stranger to the music scene. For those unaware, she's had nine No. 1 songs on Billboard's dance chart. From "Painkillr" to "How Many F**ks?" Jayne continues to pump out dance anthems that are hard to resist and have her collecting the coveted gay fanbase. 
Taking a page from Countess Luann's discography, "Xxpen$ive" is about living a life of luxury — but unlike "Money Can't Buy You Class," Jayne is actually in on the joke while serving up an irresistible song that's ready for the clubs. 
In the in-your-face music video, co-written by Ferras, Jesse Saint John and Sarah Hudson, Jayne really does go all out. It is her most polished music video to date and she shines throughout. 
With silly earworm lines like, "It's expensive to be me, eh eh eh eh eh / Lookin' this good don't come for free, eh eh eh," it'll be stuck in your head for the rest of the week whether you like it or not. 
Jayne has continued to build upon her success. Currently in her second season as part of the cast of The Real Housewives of Beverly Hills, the 45-year-old singer and mother has become a fan favorite. 
With her latest single "Xxpen$ive," Jayne makes it clear her music career is the real focus here. With tight choreography, memorable lyrics and countless hair flips, Erika Jayne isn't just another Real Housewife attempting to be a pop star, she is a pop star.