Secretly deployed Russian cruise missile violates arms control treaty, officials say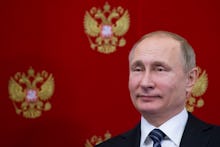 In a move that threatens to further strain the country's tense relationship with the United States, Russia has secretly deployed a new cruise missile, White House officials confirmed to the New York Times on Tuesday.
According to the report, insiders of President Donald Trump's administration claim that the launch violates longstanding arms control treaties — some of which were put in place to help usher in an end to the Cold War.
The move will present Trump with a new set of challenges at a moment when his administration is already being scrutinized for its relationship with the Kremlin. On Monday night, national security adviser Michael Flynn resigned over allegations of improper communications he had with Russia regarding sanctions prior to Trump's Jan. 20 inauguration — and Trump's ties to Russian President Vladimir Putin have long been questioned.
This isn't the first time Russia has toed the line with its cruise missile program. In 2014, the administration of former President Barack Obama accused the country of violating a 1987 treaty that bans the use of ground-launched ballistic or cruise missiles on land after a similar missile deployment reported on by the Times.
Trump, for his part, has sent mixed signals on his intentions for future arms accords. While he has expressed interest in strengthening the U.S.'s nuclear arsenal, he has also said that plans to reach an agreement with Moscow to reduce nuclear stockpiles "very substantially," according to the Times. 
The deployment of the Russian missile program sent shockwaves throughout NATO nations, which likely face the largest military threat — a threat that former NATO commander Gen. Philip M. Breedlove had anticipated.
Breedlove, who retired last year, previously warned that any such deployment of a Russian cruise missile would represent a challenge that "can't go unanswered."