Gay Twinks4Trump creator Lucian Wintrich is now a part of the White House press pool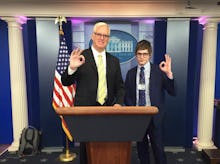 On Monday, the White House press pool gained its newest member, Lucian Wintrich. Wintrich is reporting for Gateway Pundit, a right-wing clickbait blog popular with the alt-right crowd.
Gateway Pundit founder Jim Hoft announced that the blog had been approved for credentials in January, and he and Wintrich tweeted out pictures of them at the White House on Monday afternoon. 
In a tweet from Hoft, both he and Wintrich displayed a hand symbol associated with ring-wing meme Pepe the Frog, which is considered a hate symbol by Anti-Defamation League. Hoft's tweet also included a frog emoji, a nod to Pepe. 
Prior to reporting from Trump's White House, Wintrich, who doesn't consider himself a journalist, launched the mildly NSFW art project Twinks4Trump, which featured gay men in various states of undress sporting Make America Great Again hats. Wintrich is an open Trump supporter who often sports the cap on his Instagram and refers to Trump as "daddy." 
In 2016, Wintrich also posted an Instagram shot of him along with right-wing provocateur Milo Yiannopoulos, who recently mocked a transgender Milwaukee woman sitting in the audience of his "Dangerous Faggot" tour.
"We're bringing back the rat pack," Wintrich's caption read. 
According to blog Media Matters, Wintrich has very little media experience. The blog said that a Nexis search for his byline turned up nothing. He authored one opinion piece about Twinks4Trump for the Hill in 2016. According to Media Matters, Wintrich acted as founder and creative director of Rabble Media, a "new type of media brand" that focused on "original reporting, underserved stories, interesting perspectives, thought-provoking proposals and occasionally, breaking news." The site was active between late summer and September 2016. 
Wintrich called the Media Matters characterization of his experience "incendiary nonsense" in an email to Mic. "Such can be said of all of Soros' propaganda though," he added, invoking the name of business mogul George Soros, a favorite target of right wing conspiracies. 
Wintrich said he deserves to be a part of the White House press pool. When asked if his pro-Trump art should exclude him from covering the White House, Wintrich invoked this reporter's bio and answered: 
Do I think that being a gay conservative with involvement in the arts should exclude me from reporting? That's like me asking you, "Do you think your being a queer Latino New Yorker who enjoys female rappers, Buffy the Vampire Slayer and Flannery O'Connor impacts your ability to do your job at Mic?"