Migos releases a line of Valentine's Day cards, reasserting its mastery of the meme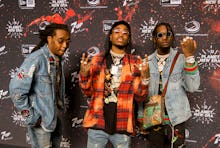 Earlier this year, Migos conquered the charts with one of the most idiosyncratic, trap-heavy love songs in history. In January, "Bad and Boujee" topped the charts against all odds, finally landing a No. 1 single for some of Atlanta's most promising trendsetters. They engineered that coup in large part with a meme.
The song's opening lines, it's hook, made for fun, endlessly remixable content for the internet to wild out with. It kept their single ever present in the minds of internet heads, and kept it streaming. Tuesday they doubled down on their meme dominance, teaming up with Spotify to release a line of Valentine's Day cards punning off their "Bad and Boujee" addictive lyrics.
"Rain drop. Drop top. I bought Alycia roses from the pawn shop," one version of the customizable card read. The cards come decorated with roses, doves and Offset, Takeoff and Quavo posing in the borders.
As Mic's Taylor Jones wrote in a review of Migos' Culture album and their New York release events, Migos' "shrewd understanding of how to work the strange, new frontier of the internet to create culture" has played a large part in their success. 
They're willing to "have fun with their brand," recently releasing a studio version of their "Dab of Ranch," snack jingle and a reading of the children's book Llama Llama Red Pajama in their signature "Bad and Boujee" flow.
Their Spotify valentines are just one more example of the group finding creative ways to capitalize off the colorful, quirky ways fans can interact with their music. It'll undoubtedly brighten up a few boujee Valentine's Day celebrations and further lock in their status as the Beatles of this generation. Check out the Spotify-hosted Valentine's Day mini-site here.
Mic has ongoing music coverage. Please follow our main music hub here.