US customs is revoking Muslim American travelers' Global Entry cards, lawyers say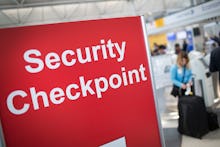 A spate of Muslim travelers in the United States, both American citizens and green card holders, have claimed U.S. Customs and Border Protection revoked their Global Entry cards, several immigration lawyers said in interviews with Mic.
Global Entry is a program run by CBP, which provides expedited entry through customs checkpoints at U.S. airports to vetted travelers. 
Other travelers said their Global Entry applications were denied — without explanation — after being told in person they were approved after screenings and interviews, according to the lawyers. Greg Siskind, attorney and board member of the American Immigration Lawyers Association, has been leading the charge in investigating these cases and called for examples on Twitter in early February. 
"So far, we have heard from eight to nine people who are all Muslim," he said. "We expect that number to grow."
Siskind said CBP has not provided reasons for the revocations. But he did lay out a timeline: Muslims started losing their Global Entry cards after President Donald Trump signed an executive order restricting U.S. travel by refugees and citizens of seven majority-Muslim countries.
According to Siskind, though, the revocations extend beyond the countries targeted on the ban list — Syria, Yemen, Iran, Iraq, Somalia, Sudan and Libya — and has even affected American citizens.
Heena Musabji, a Chicago-based attorney, said in a phone interview she's heard of three cases since the start of Trump's travel ban in which Muslim U.S. citizens were denied Global Entry without explanation.
"I've directly known of three people in the last two weeks that had their Global Entry eligibility revoked," Musabji told Mic. "I don't know if it's directly related to Trump's travel ban. The travel ban is limited to nonimmigrants from certain countries. These are U.S. citizens over [a] short course of time. I honestly don't know why this is happening."
One of Musabji's clients is Hasan Askari, a 30-year-old U.S. citizen who emigrated from Pakistan in 2003 and later received dual bachelor's degrees at East-West University in Chicago. As a customer relations officer for a Chicago-based software company, Askari's profession requires a lot of traveling, so he applied for Global Entry eligibility in July 2016. 
In November, Askari went through CBP's in-person screening and interview process. He was told he was approved and would receive his card in the mail, but in February — after Trump's travel ban was put into effect — Askari received an email from CBP notifying him of a change in his Global Entry eligibility status. He later learned he was denied.
"The reasoning I received was that I 'failed to satisfy CBP low-risk status,'" Askari told Mic in a phone interview. "I provided all the right information. I don't even have a speeding ticket. There's nothing in my record at all."
According to John Wagner, CBP's executive director of admissibility and passenger programs, roughly 3% to 5% of 30,000 monthly applications are denied, mostly due to risk factors associated with an applicant's criminal record.
Askari said most of his frustration lies with CBP's lack of explanation for abruptly denying his application. He tried to call the CBP office at O'Hare International Airport, but has not received a response. CBP has also not yet responded to Mic's request for comment.
"The problem is that it's so vague and it's so certain," Askari said. "You haven't given reason. But there's no reason why. It's a blanket revocation of anybody who is a Muslim. I don't get it."
Siskind said the CBP has not acknowledged or issued any statements on the basis of their revocations, but it seems clear Muslim travelers are being specifically targeted. 
"All we know is what we're seeing and it's only Muslims — people, including U.S. citizens, who haven't really traveled to the banned countries — who are having their Global Entry revoked," Siskind said. "Some of the people are American-born citizens and others naturalized citizens, but the common thing we're seeing is that they're all Muslim. So one can draw that conclusion."
Siskind said he and AILA are working to figure out if this is a direct act of discrimination toward Muslims or travelers with Muslim names. They are also filing a Freedom of Information Act request with CBP. If they don't receive a response within the 10-day deadline, they are preparing to sue the agency. 
Askari is also considering litigation if he doesn't receive a response from CBP soon. But what's more heartbreaking for Askari than the CBP's lack of response is that he escaped persecution in Pakistan to only feel persecuted in the U.S., he said.
"I'm a Shia Muslim from Pakistan; we go through persecution there," Askari said. "Persecution is nothing new to me. I migrated to the U.S. to avoid that stuff and not go backwards."