Hackers just helped NASA save a treasure trove of climate data from an uncertain future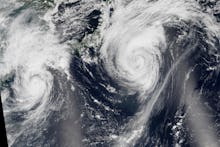 While you were brunching and binge-watching your favorite TV series over the weekend, coders saved a large amount of the government's climate science data.
Roughly 200 programmers congregated Saturday in the Doe Library at the University of California, Berkeley, to take part in a hackathon focusing on NASA's earth sciences programs and the Department of Energy. Wired reported the group of coders had the common goal of saving data that could be deleted or otherwise tucked away under President Donald Trump.
Using web-crawler scripts and patching together data sets, the hackers were able to successfully preserve 8,404 web pages onto the Internet Archive — a digital library with a plethora of screenshots from websites — and download 25GB of data from 101 public datasets.
Aside from archiving, the coders are creating "robust systems" to track modifications to government websites, according to Wired. For instance, the Global Change Data Center's reports archive and a NASA atmospheric carbon dioxide dataset had already been deleted.
The fear of missing data is valid, considering Trump's stance on climate change and the environment. In 2015, while on Hugh Hewitt's radio show, Trump said: "I'm not a believer in manmade global warming." During his campaign, he referred to climate change as a "hoax" at a speech in Hilton Head, South Carolina. 
But actions speak louder than words. So far during his presidency, Trump has signed an executive order reviving the Dakota Access and Keystone XL oil pipelines; ordered the Environmental Protection Agency to remove the climate change page from its website; signed a separate executive order to expedite environmental reviews related to infrastructure projects; and nominated Oklahoma Attorney General Scott Pruitt to lead the EPA. In 2016, Pruitt referred to climate change as a "religious belief." 
Preserving climate data is a great starting point, but it's only the beginning. 
"Climate change data is just the tip of the iceberg," Erik Kansa, an anthropologist with nonprofit group Open Context, told Wired. "There are a huge number of other datasets being threatened with cultural, historical, sociological information."