Mar-a-Lago: The strange history behind Donald Trump's private Palm Beach club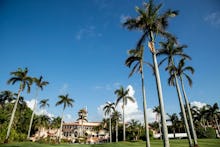 Donald Trump has spent half of his four weekends as president at the "Winter White House" — the nickname given to Mar-a-Lago, his sprawling exclusive resort in Palm Beach, Florida. 
Last week, it was the venue where Trump hosted Japanese Prime Minister Shinzo Abe, and where he dealt with North Korea's missile launch — in full view of civilian members of the pricy private club.
Here's what to know about the 20-acre oceanside resort that's bore the Trump name since 1985.
From the Post family to the U.S. Government
Designed by architects Marion Wyeth and Joseph Urban, Mar-a-Lago was built for socialite cereal heiress Marjorie Merriweather Post and completed in 1927. 
When Post died in 1973, she willed the estate — whose name in Spanish means "sea to lake" — to the United States government to be used as a "Winter White House," a retreat for presidents and foreign dignitaries. 
But neither Richard Nixon nor Jimmy Carter used the estate, and prohibitive maintenance costs prompted the government to return Mar-a-Lago to Post's daughters in 1980, the same year it was designated a National Landmark.
Trump purchases Mar-a-Lago
Trump became aware of Mar-a-Lago in 1985 and reportedly offered the Post family $25 million for the estate. 
When the Post family turned it down, Trump says he purchased beachfront property and threatened to build a "hideous" home to block Mar-a-Lago's ocean view. "That was my first wall," Trump told the Washington Post. The Post family eventually sold him the estate for less than $8 million.
Despite frequent clashes with the old-monied Palm Beach, Trump used the estate as a private residence until 1995 when he opened it as a private club in the wake of early-1990s financial troubles. 
Mar-a-Lago was the first Palm Beach club to accept Jewish, African-American and openly gay people as members, according to the Miami Herald. 
The estate would host concerts by prominent stars, including Celine Dion and Diana Ross, and became a destination for the likes of Michael Jackson, who honeymooned there with Lisa Marie Presley in 1994. 
The Winter White House
Donald Trump dubbed Mar-a-Lago his "Winter White House" in a widely mocked tweet that included a staged photograph of him writing his inauguration speech there. 
Since Trump's election, the Trump Organization has doubled membership fees at the resort to $200,000, lending fire to critics who accuse the president of attempting to profit from his office. 
Those concerns have become especially pronounced since last weekend, when the president conducted official business in full view of club members in the resort's dining room. 
Trump is planning to head back to Mar-a-Lago for the third straight weekend this Friday, the Palm Beach Post reported on Monday.