Mar-a-Lago Celebrity List: 13 famous names who have visited Trump's Palm Beach club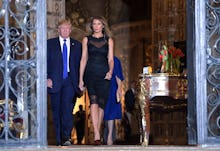 Mar-a-Lago, President Donald Trump's Florida country club, became a makeshift situation room on Saturday. There, amid "candlelight" and "hotel muzak," Trump, his advisers and Japanese Prime Minister Shinzo Abe read classified documents regarding a North Korean missile launch. 
Retired investor Richard deAgazio, one of the guests, captured the moment that now has the White House under scrutiny from the House oversight committee.
Owned by Trump since 1985, Mar-a-Lago — Spanish for "from sea to lake" — is a 17-acre sumptuous estate that holds 126 rooms, Oriental rugs, Flemish tapestries and shiny chandeliers, according to Fortune. 
Mar-a-Lago's A-list Guests
It's not just world leaders; actors, musicians and other celebrities who have visited the Palm Beach country club. Actor Sylvester Stallone visited Mar-a-Lago as part of Trump's lavish New Year's Eve party in December 2016, according to Politico. 
According to PalmBeachPost.com, which has followed the history of Mar-a-Lago, other A-list visitors have included: 
• Elton John
• William Shatner
• Vanessa Williams 
• Jay Leno 
• Shirley MacLaine
• Jennifer Hudson
• James Taylor 
• Martin Short
• Lionel Richie
• Woody Allen
• Rod Stewart
• Regis Philbin
How much does Mar-a-Lago's membership cost? 
Bernd Lembcke, Mar-a-Lago's managing director and executive vice president, told ABC News that the non-refundable membership fee is $100,000 and $14,000 in annual dues. Members must spend an additional $2,000 in food every year. 
Mar-a-Lago is likely to pose an ethical conundrum for Trump. According to the Nation, Trump's frequent visits to his property are raising eyebrows, as Sens. Sheldon Whitehouse (D-R.I.)  and Tom Udall (D-N.M.) called for more information about security protocols, a membership list and visitor logs to his estate. 
The Nation also reported that Trump is technically selling access to Mar-a-Lago for $200,000, which will give interested people the opportunity to mingle with him and his aides on a weekend.