'Fire Emblem Heroes' New Characters Update: 4 old-school heroes are coming soon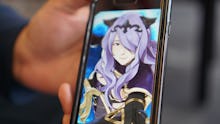 As if you weren't already agonizing over which Fire Emblem Heroes characters you have or haven't summoned yet, four additional characters are on the way soon, according to Nintendo.
According to iTech Post, Shingo Matsushita, game director for Fire Emblem, announced in a livestream that four new characters would soon make their way into Fire Emblem Heroes. Seliph and Julia from 1996's Fire Emblem: Genealogy of the Holy War will be joining the game, along with Eirika and Ephraim from 2004's Fire Emblem: The Sacred Stones.
Fire Emblem Heroes: New characters coming soon
Here's what you need to know about the new characters coming to Fire Emblem Heroes.
Following the news, Fire Emblem Heroes' Japanese Twitter account shared new images of these four heroes — in case you want to get an idea of what they'll look like in the game.
Seliph
Julia
Eirika
Ephraim
It's not clear exactly when these characters will debut, but Mic will let you know when more information is available.
More Fire Emblem Heroes news and updates
If you're still struggling to figure out Fire Emblem Heroes, we're here to help. Check out our handy guide on how to get started if you're new to the series, along with explainers on using Hero Feathers, changing nicknames in the game, boosting your characters with Unlock Potential, upgrading character star ratings and adding friends in Fire Emblem Heroes.