Donald Trump may have lied about not knowing Mike Flynn talked to the Russians about sanctions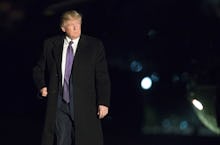 Donald Trump appears to have misled the press about when he knew Michael Flynn, his former national security adviser, had engaged in a potentially illegal conversation with a Russian official about U.S. sanctions.
Flynn resigned Monday after press reports alleged he had spoken to Russian Ambassador Sergey Kislyak about U.S. sanctions against Russia in December, prior to Trump's taking office.
During Tuesday's press briefing, White House press secretary Sean Spicer was asked when the president learned the conversation had included a discussion of sanctions.
"The first day that the Department of Justice made White House counsel available, or sought to notify White House counsel, was Jan. 26," Spicer said, referring to a message from Sally Yates, former acting attorney general. That message was reportedly Yates' attempt to warn the White House that Flynn was potentially vulnerable to "Russian blackmail." 
"The president was immediately informed of the situation," Spicer continued, implying Trump knew right away about Flynn's actions.
On Thursday, the Washington Post reported Flynn had discussed sanctions with the Russian ambassador, but Trump claimed to know nothing about it when asked about the report the following day. 
"I don't know about that. I haven't seen it," Trump said. After a reporter explained the allegations contained within the report, Trump replied, "I haven't seen that, I'll look into that."
Trump's insistence that he didn't know about the allegations against Flynn are inconsistent with Spicer's claim that he had been "immediately informed" more than two weeks prior. 
Later in the briefing Spicer was asked about the contradiction. "What he was asked specifically was, 'Was he aware of a Washington Post story?' He hadn't seen that at the time," Spicer said in reference to Trump's Friday comments. 
In other words, Spicer seemed to be saying, Trump wasn't being dishonest. Instead the president was being pedantically hyper-literal — and Spicer was now, too. They were both strictly addressing the question posed about whether Trump had seen the Washington Post report, without answering whether or not he knew of the substance of the report as described to him.
That's a relief because, for a second, it seemed like the president was being dishonest.