Here's the White House's nonsensical timeline of how Donald Trump fired Mike Flynn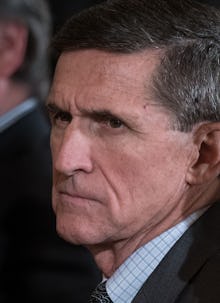 White House press secretary Sean Spicer took to the podium in the briefing room Tuesday to try and clear up unanswered questions about the scandal that led to Mike Flynn's resignation as national security adviser.
However, Spicer's description of the incident leading to Flynn's downfall — as well as the timeline of events — simply don't add up. In fact, Spicer's comments only served to create more questions about what went on behind the scenes of the White House.
Here's a look at the contradictions in the administration's account of what transpired with Flynn.
1. Who decided Flynn had to go?
There's no question Flynn tendered his resignation to President Donald Trump on Monday night. But what is unclear is who came to the conclusion Flynn had to go.
On Tuesday morning, top Trump adviser Kellyanne Conway told NBC's Today that Flynn determined he had become a distraction and that it was time to resign.
"The president is very loyal, he's a very loyal person, and by night's end Mike Flynn had decided it was best to resign," Conway told NBC's Matt Lauer. "He knew he had become a lightning rod and he made that decision."
Hours later, at Spicer's daily press briefing, Spicer said Trump's trust in Flynn had "eroded" and that Trump specifically asked Flynn to resign.
"We got to a point not based on a legal issue, but based on a trust issue, where the level of trust between the president and General Flynn had eroded to the point where he felt he had to make a change," Spicer said.
The entire situation leaves onlookers wondering who actually made the call for Flynn to go. 
2. What did Trump know about the Flynn situation, and when did he know it?
On Friday, when Trump traveled to Mar-a-Lago for a weekend with Japanese Prime Minister Shinzo Abe, a reporter aboard Air Force One asked Trump if he had seen the reports alleging Flynn had a conversation with the Russian ambassador about sanctions.
"I don't know about it, I haven't seen it, what report is that?" Trump said.
A reporter clarified that the Washington Post had reported Flynn misled the White House about his discussions with the Russian ambassador, to which Trump again replied that he hadn't seen it and would "look into it."
Yet Spicer's provided timeline of when Trump was briefed about Flynn's conversation — and his defense of Trump's answer aboard Air Force One — did nothing to clear up the fact that it looked like Trump lied to those reporters on the plane.
During Tuesday's press briefing, Spicer said the Department of Justice briefed the White House counsel Jan. 26 on Flynn's conversation. After that briefing, however, Spicer said Trump was immediately told of Flynn's actions.
If that's the case, Trump's Friday claim that he didn't know about the Flynn situation looks to be a bald-faced lie.
When reporters brought that up to Spicer, he tried to thread the needle by claiming Trump hadn't heard specifically about the Washington Post's particular report on Flynn's conversation.
That's an incredibly weak defense. 
3. Why wasn't Flynn fired as soon as Trump was briefed?
Then there were questions about why, if Trump knew three weeks ago that Flynn misled Pence and others about his dealings with the Russian ambassador, the national security adviser wasn't forced to step down until Monday.
Spicer told reporters the White House was reviewing Flynn "on a daily basis for a few weeks" and that, ultimately, Trump decided Monday his trust in Flynn had eroded too much to keep him around.
Yet nothing about the facts of Flynn's behavior had changed in the three-week period between when the Department of Justice briefed the White House and when Flynn stepped down.
The only thing that had changed was a flurry of media coverage on the situation.
Throughout that entire evaluation period, Flynn was by Trump's side in briefings, including what was the administration's much-maligned response to the North Korean missile test in a public dining room at Mar-a-Lago.
In all, Spicer's Tuesday press briefing created more questions about the Flynn situation — and that means this scandal is not going away anytime soon.