Piers Morgan fell right into JK Rowling's self-drag trap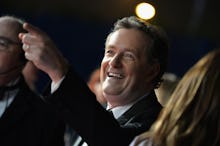 The feud between Piers Morgan and J.K. Rowling escalated to humorous levels Tuesday morning, when the TV personality mocked the best-selling author for a tweet she shared — that he himself had written. 
Rowling shared a screenshot of a glowing description written about her that detailed her accomplishments as a writer. The text reads in part: "Ms. Rowling definitely matters." It was taken from an article headlined, "The 100 British celebrities who really matter by Piers Morgan." Rowling was listed as No. 97. 
Morgan promptly attacked Rowling for sharing the quote, accusing her of a "priceless humblebrag" and playing "the celebrity game" "abusively and ruthlessly." 
But his oversight was called out by another Twitter user, who delighted in Morgan's hypocrisy:
Morgan claimed to have known he wrote the glowing words about Rowling all along, saying he was "just surprised" to have included her in the top 100: 
While Rowling has not replied to Morgan's condemnation, the tweet featuring his words is now the pinned tweet on Rowling's account. (For any of our less Twitter-savvy readers: That means it's the first tweet everyone sees when viewing Rowling's Twitter feed.)
This is just another installment in a long series of Twitter exchanges between the two public figures. Over the weekend, Rowling tweeted her delight at Morgan's appearance on Real Time with Bill Maher, during which he attempted to defend the actions of President Donald Trump. 
Nor is Rowling the first celebrity Morgan has feuded with; recent targets of his tweets include Chrissy Teigen, Charlotte Church and Lady Gaga. 
Mic has ongoing coverage of Piers Morgan. Please follow our main Piers Morgan hub here.