The most damning allegations from the sexual discrimination complaint against Magic Leap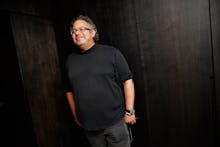 A former female executive at augmented reality company Magic Leap is suing the company for sex discrimination, a hostile work environment and retaliation.
Tanner Campbell, former head of strategic marketing and brand identity and, later, vice president of strategic marketing and brand identity at Magic Leap, filed a complaint Monday painting a damning picture of the startup.
Up until recently, little has been revealed about the clandestine company aside from the fact that it has raised a whopping $4.5 billion and that its hype videos were too good to be true (they were fake). In the last week, leaked images of the prototype revealed a clunky backpack contraption that looked more janky than futuristic. 
And on Monday, Campbell's complaint revealed an internal work culture permeated with stereotypical Silicon Valley sexism. That's a lot of funding for a company failing to create a product that wows — or a work culture that isn't discriminatory.
Mic reached out to Campbell, her attorneys and Magic Leap for comment and will update with any response.
We've compiled a list of the allegations in Campbell's complaint, including quotes from the lawsuit.
Two men in leadership exhibit grossly sexist behavior
"Scott Henry, CFO, is the kind of man who sits a little too close to women and makes them feel uncomfortable with his body language, flirting and objectification. He generally treats women as objects of beauty (or not) rather than co-workers worthy of respect. He is a bully and when he does not get his way, he belittles his adversary."
"Eric Akerman, vice president of IT, is a high school buddy of Abovitz. He is a loud and outspoken and several misogynistic comments have emanated from his department and from him."
Executive Henk Vlietstra openly gave white men preferential treatment
"Campbell asked Vlietstra why Magic Leap hadn't fired Thompson, and Vlietstra responded that he couldn't fire Thompson because he was African-American and there were white men who had done 'far worse' and if Magic Leap fired Thompson, he could sue them because he had been fired, but not the white guys. Campbell, outraged, asked, 'Why not fire them all?' Vlietstra answered: 'Because we need the white guys. They're important. We need them. I know you're upset, but my hands are tied.'"
The company failed to hire a director of diversity.
"Despite the substantial workforce, Vlietstra did not hire a director of diversity when major complaints from all protected classes, including women, arose."
The company ignored product input from women that would make the experience more inclusive and less offensive.
"Women recommended changes to the design, such as not having the headset connect in the back of the head because such a connection is difficult for people with ponytails or long hair. The women also recommended using a less stiff, lighter cable to connect the device to the belt pack, because the existing one got caught in hair and jewelry. They also recommended a new way to attach the 'belt pack,' since women often do not wear belts. A chaotic discussion with people talking over each other followed. The group made no decisions and none of the proposed changes were made to the design."
"One of the only three or four core apps that will ship on Magic Leap's standard headset is a game, 'Dr. G.,' that has no female heroes or lead characters and the one female character, who is in the game backstory, but not the game itself, is a busty woman depicted on her knees groveling at the heroes' feet in admiration. During her tenure with MagicLeap, Campbell complained repeatedly and to no avail to the game's developer that the game was misogynistic, and included the game in the her gender diversity deck as an example of what Magic Leap was doing wrong."
Men in the company made a number of discriminatory comments about women without consequence.
"Campbell, in May 2015, presented several composited images she had created to a group of people. One of the images depicted a male and female doctor. One of the members in the group commented that the male doctor looked like actor George Takei. Another male employee piped in commenting, 'Yeah, and look, it's Bring Your Wife to Work Day.'"
"Euen Thompson, an IT support lead, on Nov. 16, 2016, gave a tutorial to a group of seven new hires, including two women, how to use Magic Leap's IT equipment and resources. One woman asked Thompson a question in front of the group and Thompson responded, 'Yeah, women always have trouble with computers.' The women in the group, in apparent disbelief, asked Thompson to repeat what he said and Thompson replied, 'In IT we have a saying; stay away from the Three Os: Orientals, Old People and Ovaries.'""Campbell met Sept. 28, 2016, with Magic Leap CFO Henry and head of operations Tina Tuli for a conference call with the CFO and leadership team at R/GA, an award-winning international advertising agency that was Magic Leap's advertising agency of record. During the call, Henry said of the product under development, 'I'm sitting here between two beautiful ladies. They're not going to want to put a big ugly device over their pretty faces. And I have an office with glass doors, I don't want people to see me with these beautiful girls with ugly things on their faces.' Later, one of the male R/GA executives on the call asked Campbell if Henry frequently made sexist comments like he had made. A female executive at R/GA also was offended by Henry's remarks. Just before the call with R/GA had started, Henry who had printed an email from Tuli that had a photo icon with Tuli's picture on it, pointed to the picture and said in the presence of Campbell, 'You know what I love most about all the emails you send me, Tina? I get to see your beautiful smile smiling back at me.'"
"Vice president of IT Akerman, on Nov. 8, 2016, told a large group of people who asked why he voted for Trump that it was 'because Melania is hot.'"
"Henry told Campbell she was being 'emotional' and 'sensitive' and accused her of feeling 'threatened.' Campbell denied feeling threatened and explained her logical business reasons for not accommodating his request."