Meet Shannon Coulter, the woman leading the #GrabYourWallet movement and getting under Trump's skin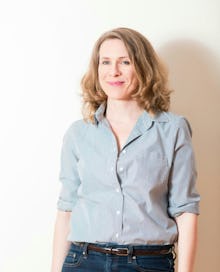 By day, Shannon Coulter is a 45-year-old woman at the helm of her own marketing agency in the San Francisco Bay Area. By night, she is at the helm of one of the most powerful and impactful campaigns against President Donald Trump the internet has seen thus far. 
Coulter is the leader of the #GrabYourWallet movement, which calls on American citizens to not only boycott the Trump brand but brands and companies that partner with them and companies that have high-ranking employees that donated to Trump's presidential campaign as well. 
To put it lightly, Coulter has had a very good past few weeks. 
At first, her meticulously kept list of companies affiliated with the Trump family was more than 50 companies long. Eighteen companies have since dropped from the list because they've either cut ties with the Trump family or plan to. Eleven of those companies have been dropped in the past few weeks, including Nordstrom (we'll get to that later).
It all started when Coulter heard in October the now-infamous recording of Trump bragging about grabbing women "by the pussy." 
"Something really changed for me," Coulter said in an interview. "I just felt a deep burning need to respond in some way." 
First, she tweeted. 
"I started tweeting about the possibility of a boycott one night on Twitter," Coulter said. "I had just done some late night shopping on Nordstrom and encountered some Ivanka products and felt really weird about doing business with a company doing business with such a hateful campaign." 
That's the first time she tweeted #GrabYourWallet. It immediately went viral. 
And by way of this viral hashtag on Twitter, Coulter started tweeting back and forth with a woman named Sue Atencio, who soon became #GrabYourWallet's co-founder. After seeing how strongly people felt online about buying Trump products, Atencio and Coulter, who did not know each other before this, decided to collaborate on a comprehensive list of the companies to avoid. 
First it was a public Google Doc. After some early press, the Google Doc got so much traffic it could no longer load. So the doc became a website, which Coulter now manages at night from home, for no pay at all, crouched over her computer until the wee hours of the morning. 
"It's not political for me," Coulter said. "It's really more about fundamental human decency and respect. This is an expression of who you are as a person." 
During the course of #GrabYourWallet, which began in October, Coulter has seen several moments where there was increased interest in the boycott. The first was after the tapes. Then, after Trump won and there were investigations into his many conflicts of interests, Coulter's hashtag traffic spiked. 
Then there was the time Trump tweeted about L.L. Bean and people felt motivated to know more about his business relations too. Most recently, Coulter has seen a boost by the public's response to Trump's ban on travelers from seven Muslim-majority countries.
Although the #GrabYourWallet movement has been credited for retailers like Neiman Marcus and Burlington Coat Factory dropping Ivanka Trump's line, Coulter knows that people feel weird about buying Trump now, regardless of knowing about #GrabYourWallet or not.
"I look on Twitter and it's people talking about when they go shopping and encounter the name 'Trump,' they liken it to touching fire, touching electricity," Coulter said. "It's like they're touching a spider." 
But regardless of whether #GrabYourWallet has been the driving force behind so many retailers ditching the Trump family brands, Coulter has Trump's attention. 
After Nordstrom dropped Ivanka Trump's line because of underperformance, the president tweeted,"My daughter Ivanka has been treated so unfairly by Nordstrom. She is a great person — always pushing me to do the right thing! Terrible!" 
Now that's impact.
As to why Trump has had such a strong reaction to the idea of retailers — and customers — being turned off by the Trump family, Coulter believes that it all goes back to why Trump got into politics in the first place.
"We know that Trump and Ivanka position themselves as business people," Coulter said. "I think they went into politics as a way to further expand their business empire. So with the brands experiencing damage, it's very worrisome to them. I don't know how they thought persecuting a religious minority wouldn't backfire, but it did." 
Coulter has officially gotten under Trump's skin. "I'm dazzled people are using their consumer power in honor of a more respectful society," Coulter said. "I'm very inspired by that. It also feels scary of course. I receive a bunch of nasty and threatening messages every day. So it's fear. But I feel like I can't back down. It's not in me. I won't allow myself." 
That's because, after all, there are still more than 40 companies on her list, including Amazon, Bloomingdales and Lord & Taylor. Her work won't be done until there are zero — and maybe if a few certain people are out of the White House as well.
Coulter said she does believe meeting her goal — getting Trump-branded items out of all stores — is possible. "I think this will evolve into a resource for people to flex their consumer power that promotes this equal society. I don't know what that looks like yet. There's talk about starting a nonprofit. Then I guess in a larger sense I would feel some sense of satisfaction of getting the Trump family out of the White House."