There's an 8-bit Beyoncé video game to help you channel your outrage over her Grammy snub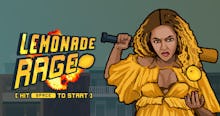 Are you as upset as Adele that Beyoncé didn't win the album of the year award at the Grammys? Well, feel free to channel all that pent-up anger into a new 8-bit-style Lemonade inspired video game, set to a stripped-down electronic version of Lemonade track "Hold Up."
The game, called Lemonade Rage, imagines Beyoncé is actually just really pissed that someone stole all her lemons. It's your job to collect as many lemons as possible — so that you can eventually make a big ol' batch of lemonade — by smashing cars and fire hydrants. Don't think about it too hard.
As you walk down the street swingin' your bat around, you'll also have to avoid some obstacles: Illuminati conspiracists, haters and little piles of poo.
So, who the heck made this thing? In an email, the creators of Lemonade Rage said, "We all work in advertising. We're all creatives in different types of disciplines like developing, design, animation, art direction and copywriting." 
In other words, this game was a viral stunt made by ad people, not by an up-and-coming game development studio or anything.
As such, there's definitely some, "How do you do, fellow kids"-type stuff — for example, "haters" is styled as "haterz" — but still, it's good for a silly 30-second distraction in the middle of your work day.
Lemonade Rage is available for free on its website.
More gaming news and updates
For more gaming news, check out the latest from Mic. Here's a collection of cute Overwatch-inspired Valentine's Day cards, 15 photos that compare the Nintendo Switch to the Wii U, a beginner's guide to For Honor, and a deep dive into the new trend of Nazi-punching video games.