Kanye West's Yeezy Season 5 fashion show: West doubles down on his devotion to diversity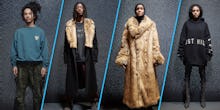 Well that was different. At Kanye West's Yeezy Season 5 show at New York Fashion Week, which took place Wednesday afternoon at Pier 59 Studios in Manhattan, the show didn't begin with a model taking to the runway. It began with images of the models projected onto black screens. 
How's that for the future for you? 
One by one, images flashed onto the screens, showing off Yeezy Season 5.
As far as the clothes go, they are less Yeezy, and more like an ode to California, with jackets stitched with "Calabasas," which is notably Kim Kardashian West's home turf. 
Unlike previous seasons, this was colorful, bursting with personality. 
Though, there were traces of West in here, like oversized jackets... 
...and thigh-high boots. 
Finally after the images all flashed onto the screens, the models came out and walked decked in exactly the same outfits the crowd had seen just minutes before. 
Although the show itself wasn't as grand as season's previous, with Season 4 on Roosevelt Island and Season 3 at Madison Square Garden, what was remarkable was West's continued devotion to having one of the most diverse shows at NYFW. 
Most notably, there was Halima Aden, who is Somali-American, was born in a Kenyan refugee camp and wears a hijab. Most recently, she competed in the Miss Minnesota USA pageant, becoming the first contestant to wear a hijab and burkini during the competition. 
For Yeezy, this is a first. It also comes just months after West first canoodled with Donald Trump, a man who's adamantly against letting refugees into the United States at the moment, and then deleted all trace of support for Trump from his Twitter. 
In addition to just scale, what also made this Yeezy showcase feel different is the lack of a real scandal before the show. Ahead of this Yeezy show, there was no outrage over model castings or mystery about its location, like Season 4. Instead, there was just a bit of a fashion industry fuss among New York Fashion Week organizers, with West booted from the official schedule due to "bad behavior." Some within fashion even decided to boycott the show. 
But at the actual show, there was no sign of disorganization or outrage. In fact, it felt pretty peaceful. 
So maybe West's stint in a health facility did a bit of good. 
Over on Twitter, minutes after the show ended, West's loyal following were already doling out high praise for the collection.
Maybe all of this fanfare will prove to West that to succeed in fashion, you don't need to put on a show of epic proportions. You just need to show them good fashion. 
Feb. 16, 2017, 8:09 a.m.: This post has been updated.