Trans woman JoJo Striker shot and killed in Toledo, initially misgendered in media reports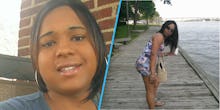 Police found the body of JoJo Striker, 23, in an empty garage in Toledo, Ohio, on Feb. 8, WTOL reported. Striker died of a single gunshot to her torso. Police do not currently have a suspect or motive for her death. 
WTOL reported that Striker's mother, Shanda Striker, believes the killing was a hate crime.
"The police told us to leave it alone but that will never happen because I will always search for my son's killer," Shanda Striker told WTOL. "This is a hate crime and it needs to stop."
Initial media reports misgendered Striker. On its Facebook page, Equality Toledo invited media to training workshops to educate them on better reporting practices. 
"We are saddened to hear of the murder of JoJo Striker," Toledo wrote. "As a way to honor her life, this is a direct invitation to all media sources in the Toledo area to a workshop on how to appropriately report on the lives of the LGBT community, particularly our transgender siblings."
Phaylen Fairchild, a Toledo-area transgender woman and advocate for the community, said in a phone interview that Striker's death has shaken many of the community's young transgender women, who already feel Toledo's environment is extremely oppressive to trans women, especially trans women of color. 
"We recognize this could be any of us," Fairchild said. "This is the struggle with a lot of transgender women. They're looking for a place for acceptance and looking for peace of mind." 
Fairchild took issue with some local reports that said that Striker's "criminal past" may have played a role in her death. 
"To use that in order to dehumanize her and her passing was unacceptable to me," Fairchild said.
Friends, family and people on social media shared pictures and messages to Striker online. 
Equality Toledo created a GoFundMe page to help with funeral costs for Striker. In three days, the fundraiser has amassed over $1,400, still shy of its $3,600 goal. 
This is the third homicide of a trans or gender-nonconforming person the organization has responded to so far in 2017, according to a statement to Mic from the National Coalition of Anti-Violence Programs. Mic previously reported on the deaths of Mesha Caldwell and Jamie Lee Wounded Arrow in January. 
"We are deeply saddened by the death of JoJo Striker, and we send our thoughts and condolences to those impacted by her death," Emily Waters, senior manager of national research and policy at the New York Anti-Violence Project, said in a statement. "We are already seeing signs that the new administration will be stepping back protections for transgender people. In a moment when we are seeing the highest number of reports of homicides of transgender and gender non-conforming people, we need policies that protect the rights and safety of transgender people — not rollbacks"