Valentine's Day Marijuana: Weed chocolates, massage lotion and more goodies for your loved one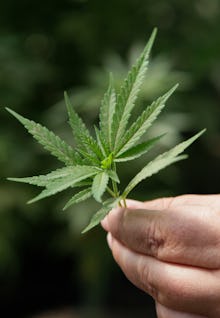 If you're a bit of a pothead, you probably forgot today was Valentine's Day until you woke up on Tuesday. Heck, maybe you even had to be reminded by the bouquet of flowers on a co-worker's desk. But here's the good news: If your partner is as into marijuana as you are, it's easy to give them the gift of green — and I'm not talking about money.
Weed Chocolates
Anybody could buy their sweetheart some plain Russell Stover box of chocolates that's been sitting around in Rite Aid since the last Bush administration. Why not level up to a candy that gets both your bodies buzzing? I like the look of these weed-infused sea salt caramel bon bons from Altai, which come in two strengths: 10mg or 25mg THC per bite. High Times says "the sativa effect is pronounced, making these treats appropriate for daytime use and providing an energetic, creative high."
Apparently the only problem is stopping yourself from eating them all.
A Heart-Shaped Joint
If your stoner significant other has a soft spot for homemade valentines, consider imgur user gr33npete's guide to rolling a heart-shaped joint for the occasion. This thing is so massive that you may need a third person to help you smoke it all — then things should get really interesting. 
Torch this work of art — if you can bear to — and enjoy a night of smoky romance. You can even blow hits into each other's mouths while you make out.
Marijuana Massage Lotion
As Olivia-Newton John once sang: "Let's get physical." 
You don't have to eat, smoke, vape or dab to enjoy the benefits of cannabis, because one of its best chemicals — CBD, or cannabidiol — actually makes a great massage lotion ingredient. Among its many other benefits, CBD is a pain reliever, so trading rubdowns with one of these topicals is ideal if you and your boo are trying to unwind and get in the mood after a stressful day at work.
Go ahead, melt those aches away.
Cannabis Lube
Finally, when you're ready for the main event — and if you have a vagina — treat yourself to a few sprays of Foria, an "all-natural sensual enhancement oil designed specifically for women." Weed makes sex better in all kinds of ways, of course, but this is the only way to specifically get your genitals stoned (while keeping your head perfectly clear). 
How does it make you feel down there? According to reviewers: "super relaxed," "tingly" and "something like a crazed animal in heat." Sounds like true love all right! Since this stuff is oil-based, though, you can't use it along with a latex condom.
And that's it! If you still can't create some Valentine's Day magic with all these weed goodies at your disposal, it may be time to start seeing other people.