'Zelda: Breath of the Wild' DLC: Nintendo graciously offers hard mode as a $20 download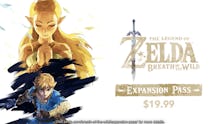 Until very recently, the words Zelda: Breath of the Wild DLC wouldn't have made any sense. Yet Nintendo has changed all that by announcing that its flagship title for the Nintendo Switch has downloadable content coming its way. 
While the paid downloadable content means there will be more Zelda to be had, it also means fans who don't buy the expansion will get less of a game — including some features that should really come standard with any Zelda purchase.
The Nintendo's Zelda: Breath of the Wild "Expansion Pass" will cost $19.99. Here's what it includes.
Legend of Zelda: Breath of the Wild DLC: Hard mode? Additional map feature? Really?
Nintendo delivered the announcement on its Zelda website and in a YouTube video. Here's the official breakdown and what to expect if you pay for it.
In summer 2017, Zelda: Breath of the Wild DLC buyers can expect a hard mode, a new Cave of Trials challenge and an "additional map feature." 
Then, in time for the 2017 holiday season, Expansion Pass holders will get a new original story, an extra dungeon and some vague-sounding "additional challenges."
Oddly, Zelda: Breath of the Wild apparently does not ship with a built-in hard mode. Upon beating the story mode, other Zelda titles offer a Master Quest mode that lets you play on a greater difficulty. With hard mode coming as DLC, that may not be the case for BotW.
According to Nintendo's video announcement, those who order the expansion pass on March 3 will unlock access to three new treasure chests with "useful items" and exclusive in-game clothing — though what type of clothing remains to be seen.
See more Nintendo Switch coverage here
Check out our comparison photos sizing up the Switch to the Wii U GamePad, along with details on the console's price, release date, pre-orders, battery life and our hands-on review. If you're interested in the Nintendo Switch's games, here's info on the new Super Mario Odyssey, Legend of Zelda: Breath of the Wild, Splatoon 2, Xenoblade Chronicles 2, 1-2-Switch and the goofy boxing game Arms.