Nintendo Switch Pre-order Alerts: Set up notifications for Amazon, Best Buy and Target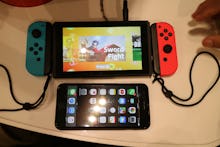 The Nintendo Switch release date is coming up fast, and if you haven't gotten your Nintendo Switch pre-order in you likely won't be getting one on March 3. Unless you plan on visiting the Nintendo Store in New York City, that is. Regardless, those who have yet to put in their Switch pre-order may have to brave the day-one lines and hope for the best
If you're looking to pre-order the Nintendo Switch, there's still time left to do it. Not only do popular retailers fluctuate between being sold out and offering stock, some will even alert you when the Switch consoles arrive. Here's what you need to know.
Nintendo Switch pre-order alerts: Amazon, Best Buy, Walmart and more
The first thing you'll want to do is sign up for the right email alerts on your preferred retailer's site, or even all of them. Amazon, Best Buy, Target and Walmart will let you sign up to receive alerts. This way, when there's new supply you'll be among the first to know, but that's just level one of finding out when more Switch units are available.
Nintendo Switch pre-order alerts: Sites that let you check multiple retailers at once
Why check one retailer when you can check them all? The best site that lets monitor multiple sellers at once is Now In Stock. It compiles stocking information from all the retailers we mentioned earlier, along with NewEgg, GameStop and Toys-R-Us. While the site claims most retailers are out of stock, you may get lucky and catch an in-stock Switch. If not, there's one more way to step up your pre-order alert strategy.
Nintendo Switch pre-order alerts: The best way to stay notified
Who wants to check a website every minute of every day? The service Visual Ping lets you select a section of sites to watch for changes. Instead of you having to refresh the site yourself, Visual Ping will do the work for you. So if one of these retailers adds more stock you'll know almost immediately.
Taking things a step further, you can use IFTTT to set up text message alerts when you receive certain emails. You can use this recipe to receive an SMS notification, an IFTTT app notification (iOS and Android), or set off numerous other reactions. For many, having your phone notify you when you received an email from Visual Ping, Amazon, Target or any other retailer will be the most convenient option. 
Of course, with the Nintendo Switch launch only a week away, it's possible that stock won't free up by March 3. Even if you can't pre-order, some stores, like GameStop, will let you buy the console in person at launch while supplies last. If that doesn't work and you're willing to pay extra, there's always eBay.
More about the Nintendo Switch news and updates
Check out our comparison photos sizing up the Switch to the Wii U GamePad, along with details on the console's price, release date, pre-orders, battery life and our hands-on review. If you're interested in the Nintendo Switch's games, here's info on the new Super Mario Odyssey, Legend of Zelda: Breath of the Wild, Splatoon 2, Xenoblade Chronicles 2, 1-2-Switch and the goofy boxing game Arms.