The FBI "interviewed" Michael Flynn days after the Russia sanctions call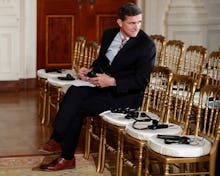 FBI agents "interviewed" national security adviser Michael Flynn about an ill-advised conversation between him and Russian Ambassador Sergey Kislyak in the days following President Donald Trump's inauguration, the New York Times reported on Tuesday.
The revelation Flynn was personally approached by federal investigators comes one day after his resignation and similar reveals officials at the Department of Justice, including then-acting attorney general Sally Yates, believed the pre-inaugural Jan. 26 call over sanctions had opened up Flynn to the possibility of blackmail. Flynn lied to fellow White House officials including Vice President Mike Pence over the nature of the calls, and if he lied to the FBI, he could face felony charges.
"It is not clear whether Mr. Flynn had a lawyer for his interview with the FBI or whether anyone at the White House, including lawyers there, knew the interview was happening," the Times reported.
Pence himself did not learn the truth until Feb. 9, two weeks after other White House officials, according to the Washington Post.
The FBI interview, as well as the DOJ warning to the White House, suggest Trump was keeping on Flynn as his adviser and continuing to give him access to privileged national security information all while knowing something untoward had happened. While Pence and other officials emphatically denied Flynn ever brought up the question of sanctions with Kislyak, investigators did not rule out Flynn was operating in concert with others in the administration.
The sanctions in question were particularly touchy because they were imposed in the wake of Russia's 2014 annexation of Ukraine's Crimean peninsula — an operation carried out by masked Russian soldiers without insignia — as well as following multiple U.S. intelligence agencies' conclusion Russian President Vladimir Putin personally directed an operation to hack Democratic Party targets during the 2016 presidential elections.
Trump struck an friendly tone on U.S.-Russia relations during the campaign as the Russian hacks embarrassed the Democratic Party and its nominee Hillary Clinton, leading to widespread speculation of ties between Trump and Russia that ran deeper than mutual convenience. Investigators from at least six U.S. intelligence and law enforcement agencies including the FBI are looking into the allegations, according to Vox.